Dixie State University's Student Success Program has goals to make the college life easier for incoming freshmen.
The program kicked off last year as part of the Student Success Center. It aims to help freshmen feel more comfortable in the college environment through the use of student mentors.
The majority of students in the program are specifically assigned to a mentor, but students who don't have a mentor can meet with one if they need additional help. Mentors are assigned based on the student's major.

David Roos, enrollment services executive director, said the program is about student connection.
"A lot of what the program is trying to do is get students connected with students and having them help each other," Roos said. "We've found that younger students actually appreciate upperclassmen who come and help them."
Roos said the biggest challenge for new students is making it past the first year.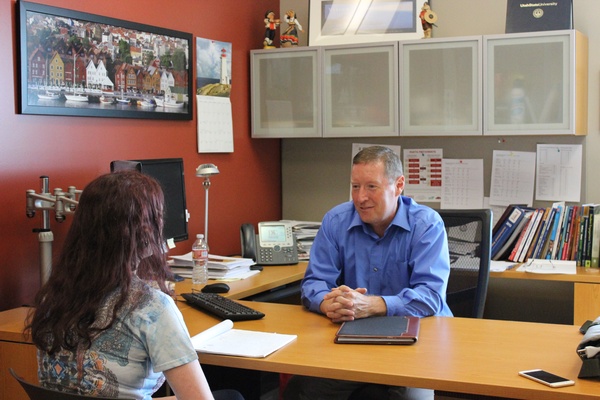 "[College] is a big transition from high school," Roos said. "It's not always obvious what you need to do to make it through that first year."
Other schools in Utah, such as The University of Utah and Brigham Young University, also use success workshops and programs to enhance a student's college experience.
Roos said the other success programs in Utah gave him inspiration to start the Student Success program at DSU.
"You don't have to look very far to see examples of programs that are working," Roos said. "We're working to emulate some of the things we've seen that are working."
Roos said other programs are targeting students that are more at-risk for dropping out of school, as well as at risk courses— courses that are a struggle for many students.
Programs that target at-risk courses are called supplemental instruction. Roos said he would like to have more supplemental instruction in the Student Success program as it moves forward.
Coy Cox, a junior criminal justice major from St. George, said he enjoys being a Student Success mentor.
"One reason I like [mentoring] so much is remembering what it was like to be in my first semester of college not really understanding how things work and not really knowing where to get my questions answered," Cox said.
Cox said it feels good to help students get help, especially due to the struggles he went through.
"If [students are] struggling in class, it feels good to see them turn things around," Cox said. "Being able to get the help they need and being able to do things that they maybe thought they couldn't do before."
Cox said the biggest issue is trying to "break down the wall" that's preventing students from seeing the mentors as peers.
"A lot of the students we contact see us as an authority figure," Cox said. "[The students] kind of have this mentality that 'this guy's trying to get after me because of my grades or attendance.' They don't really want someone they don't know very well holding them accountable."
Roos said his ultimate goal for the mentoring program is to see every freshman have someone to turn to for help. Getting students connected is a step toward success.
Students interested in getting help from the Student Success program can email [email protected] or call 435-652-4691.