Students at Dixie State University went on an alternative fall break program to Kanab to help animals live a comfortable life while they wait for their new family Oct. 22 through Oct. 24.
Students who volunteered for the break helped animals such as cats, dogs and birds by providing them with exercise and attention at the Best Friends Animal Sanctuary. Students also helped employees with tasks such as cleaning, walking and feeding the animals to provide the best possible living for the animals. With close to 1,700 animals on the property, it is no small task to take care of the animals, according to the Best Friends website. The sanctuary relies heavily on volunteers to make sure every animal gets the attention it deserves.
"I wanted to go to Best Friends because I adopted a dog from the sanctuary and I love it and love what they stand for," said Morgan McDonald, a sophomore elementary education major from Las Vegas.
On the three day trip, students worked with new animals each day. While many students volunteered to take care of cats and dogs, the sanctuary is also home to many other types of animals such as pigs, horses and exotic birds.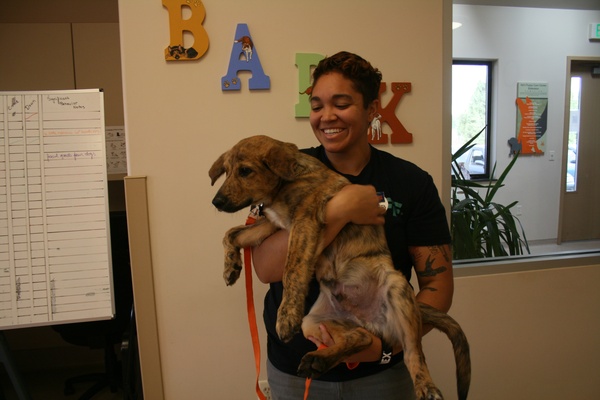 Keshara Bjorkman, a senior communications major from Ventura, California, plays with a dog at the Best Friend's Animal Sanctuary. Students helped animals receive exercise and attention over fall break. Photo by Ryan Huskins.
Gabrielle Holbrook, an integrated studies major from Taylorsville and alternative break coordinator for DSU Student Association, said Best Friends Sanctuary is a place everybody should put on their bucket list because the service and learning abut the history of the sanctuary "is a blast."

"I hoped everyone would fall In love with this place like I had," Holbrook said. "With the awesome group we had and friendships, experience, and memories made, I think we succeeded in this department."
Many students enjoyed their time interacting with animals.
"My experience was phenomenal," said Erica Ridd, a junior psychology major from Salt Lake City. "I played with puppies and kittens and dogs."
Since 1984, Best Friends Animal Sanctuary in Kanab has the goal: "Save them all." The mission of the sanctuary is to provide animals with a safe haven. Many of the animals were rescued from abuse or abandonment. According to information in the visitor center, the sanctuary rehabilitates animals to eventually become a pet for a family. The sanctuary is a no-kill shelter, meaning it will not euthanize animals if the caretakers cannot find a home.
"Best Friends is great because it offers animals a home for life," said Kate Litaker, a dog caretaker at the sanctuary.
Even animals who end up not being adopted will be taken care of for the remainder of their life at Best Friends. However, the sanctuary has high turnover rates and provides affordable neutering for pets to prevent the sanctuary from filling with more animals.
"It was wonderful how you feel loved by the animals," McDonald said. "I would also love to bring my friends here."