Dirty dishes, not enough variety, and employees not wearing gloves are the complaints some are saying about the Dixie State University Dining Services, especially in the Red Rock Café.
Wa't Manor, a sophomore communication major from Las Vegas, eats at the food court daily and said the metal utensils are often so dirty he uses the plastic ones. Sarah Ladwig, a freshman early childhood education major from Fresno, California, said she is often concerned with servers not always wearing gloves and dishes that aren't always clean.
But despite the complaints of uncleanliness, "DSU is one of the cleanest establishments that employ teenagers and young adults in St. George that I've inspected," said Klint Frei, health inspector with the Utah Public Health Department.

Most of the issues that arose in the health inspection for the Red Rock Café were common and relatively minor, Frei said. The Red Rock Café didn't have clean floors behind equipment and sinks, part of the flooring was damaged, and the conveyer belt dishwasher in the kitchen was not hot enough during the last health inspection, Frei said.
Water in a conveyer belt dishwasher is required to be heated to 180 degrees, but Frei said the water in DSU's kitchen was around 168 degrees, which is 8 degrees higher than the temperature usually required to kill salmonella, according to the U.S. Department of Agriculture's website.
"The floor [in the kitchen] was chipped in places, and I could see the concrete aggregate," Frei said. "It's not a health hazard right now, but it could be in the future if it's not addressed."
Celeste Whaley, a freshman English major from Magna, has worked for DSU Dining Services for four months. She said she has witnessed her coworkers not wearing gloves when they should have been, not always using timers to make sure food is completely cooked, and sneaking samples of the food being served.
"I've told all the staff that the day I don't find a dirty dish is the day I'll take them all out for ice cream," said Paul Blaser, production manager and chef for Dining Services. "They're not perfect, but our staff really tries to be as clean as possible."
Gloves are not the cure-all for cleanliness in the serving area, Blaser said while demonstrating wiping his nose on his pair of gloves.
According to Utah food handler code, gloves are required to be worn when serving to "eliminate bare-hand contact with ready-to-eat food." This does not apply for all of the tasks servers do in the kitchen like when using utensils or on the grill, said Martin Peterson, director of Dining Services.
A checklist for cleaning the serving area and kitchen is also revised each month to be as comprehensive as possible, Peterson said.
"Dining Services held a focus group last week with four students for two hours to discuss the good and bad of [Dining Services]," Peterson said. "The cleanliness of the serving area never came up as an issue during the focus group. But if there are any complaints, we'd love the feedback to improve."
Peterson said the most common feedback he's received is for more variety with chain restaurants in the Red Rock Café after the success of Subway.
"We are currently in the process of negotiations with two different chain restaurants for the [Red Rock Café] that will be announced in the spring," Peterson said. "They'll be open in August of next year."
Those with feedback for ways Dining Services can improve can leave a note in the suggestion box in the Red Rock Café or email dining@dixie.edu.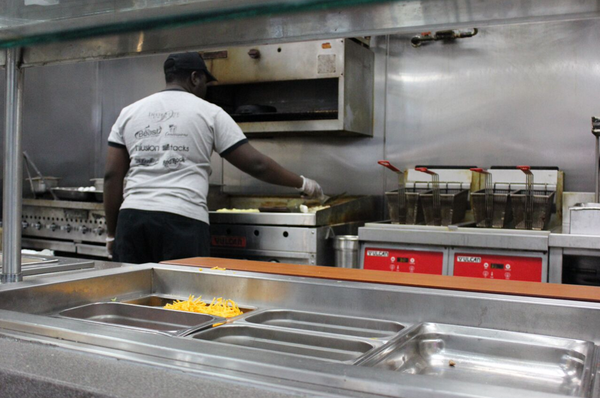 A Dixie State University Dining Services employee prepares a meal at the Red Rock Café. Despite some complaints that cleanliness codes are not always followed, health inspections reveal otherwise. Photos by Jake Brown.