Luis Candray, 8, wants to become a dentist when he grows up after receiving dental care from the Dixie State University dental hygiene department Saturday.
The Give Kids a Smile event at the Russell C. Taylor Health Science Building provided free dental treatments to local children who don't have insurance or Medicaid. It was the first time since 2013 this event was held to help.
"It makes me want to help a lot of people clean their teeth now," Candray said.
Candray was among the 87 children who received dental hygiene care at the event. In some cases where cavities were bad, restorative work, crownings and extractions were performed on the children. Twelve local dentists, over 40 DSU dental hygiene students and many other volunteers from the community helped with the event.
Patricia Wintch, interim dean of the school of health sciences and dental hygiene, said there are many low-income people in the community who don't have insurance or Medicaid and can't afford dental treatment.
"We're trying to fill that need," Wintch said. "Plus, it gives wonderful experience to our students."
Brooklyn Hansen, a junior dental hygiene major from Santa Clara, volunteered at the event as a Spanish translator and dental assistant and said helping the patients was rewarding and helped build teamwork skills.
"As a student, knowing how important oral health is, it just makes me so happy to be able to provide care for all of these people who can't afford it," Hansen said.
Other dental hygiene students conducted X-rays on the patients, sterilized dental tools, administered sealants, and helped teach children and their families about oral health. Wintch said it was chaotic at first because, for some students, this event was their first experience with real-life patients.
Hansen translated for people who couldn't speak English like Milagro Lopez, a St. George resident who brought her two children to the event to receive dental hygiene work.
"A lot of families can't afford insurance, so this event is helping our family a lot," Lopez said in Spanish. "Our kids benefited a lot. I hope to see more events like this in the future, especially for those who couldn't make it today."
Susan Tipton, sales representative for Henry Schein Dental, the organization that donated all of the dental supplies for the event, said uninsured children were found through local elementary schools.
"I've seen cases where the child has not received any dental hygiene work at all, and all their teeth are decayed," Tipton said. "And when their teeth are all blown out, it really hurts for them to chew."
Wintch said there were so many community members who came for dental care at the event that some walk-ins had to be turned away.
"Some dentists who couldn't come have offered vouchers to see patients that were turned away in their private offices," Wintch said. "There are not a lot of resources for uninsured people in the community who need dental work done."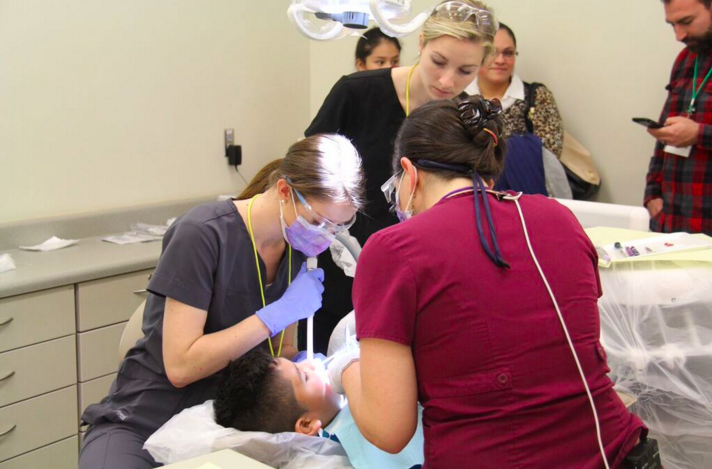 Photo by Jess Arruda.