Pitching Dixie State University's strategic plan to community members, alumni and philanthropists, Ken Beazer hopes to raise over $30 million in the coming years for DSU.
Beazer, a DSU development officer, is tasked with reaching out to potential donors to ask them for money to fund projects like the Human Performance Center and Hansen Stadium renovations. Beazer said he has helped raise about $5 million so far.
"It's quite an aggressive plan to get all these projects funded," Beazer said. "A lot of people are interested in helping, and a lot of donors have stepped up as well."
President Biff Williams said DSU has recently received a "very significant gift" from a donor that will be announced soon.
Human Performance Center
Williams said completing the Human Performance Center is DSU's No. 1 priority for the future.
Once completed, the Human Performance Center will house the only Olympic-sized swimming pool in Washington County, as well as an indoor track and classrooms for health science courses. Williams said he hopes the ground for the Human Performance Building will be broken by August 2017.
DSU's request for an additional $40 million to help fund the $50-million Human Performance Center was declined by Utah lawmakers during the most recent legislative session in February. Williams said, during the next legislative session in 2017, DSU administrators will only ask for $25 million. The rest of the funding for the Human Performance Center will come from donations and student fees, Williams said.
While lawmakers acknowledged DSU's need for a building like the Human Performance Center, Williams said they didn't support the project this year because of the lack of funding from sources other than student fees and the fact that the Human Performance Center won't be replacing or adding onto an existing building.
At the Truth in Tuition forum March 1, members of the Student Fee Allocation Committee and DSU administrators announced $115.75 from every student's fees will go toward the Human Performance Center Fund.
"[The Human Performance Center] is something the students proposed," Williams said. "If it were up to me, I probably would have suggested the money go to more academic programs."
Plans to build the Human Performance Center have been a top priority for three years and started coming together under former President Stephen Nadauld, Williams said.
Beazer said the Human Performance Center will "directly affect every student at DSU" and also provide a focal point for community events.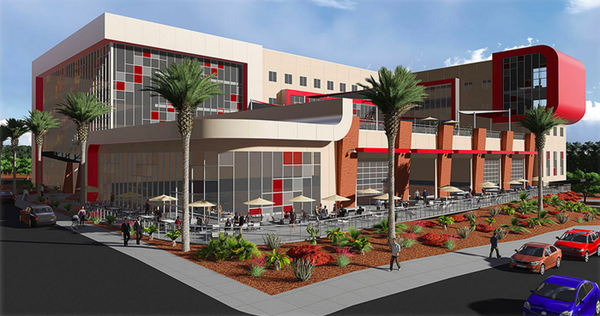 Human Performance Center.

Campus View Suites
Despite the steel beams having been delivered 10 days late, construction crews are on schedule to complete Campus View Suites this summer, Williams said.
Williams donned a hard hat and climbed to the fourth floor of Campus View Suites under construction for the first time March 3.
"It has a great view of the campus," Williams said. "Our goal is to have more student housing on [DSU's] footprint, and this is a step in the right direction."
Williams said he hopes Campus View Suites will be the center of student life on campus and help drive school spirit. Out of the 350 beds available at Campus View Suites, over 300 applicants have already applied for housing at the new dorms, breaking expectations for student interest this early, Williams said.
The eventual goal is to tear down Nisson Towers and Shiloh Dorms and replace them with new student housing complexes.
Athletic facilities' renovations
Many donors are also interested in making contributions to DSU's athletic program, Beazer said.
"I have a love of athletics, so of course I get excited about new and improved athletic facilities coming," Beazer said.
Future plans for the Hansen Stadium include adding 5,000 seats on the east side of the field and renovating the west grandstands. The final grandstands will include banquet rooms and bigger locker rooms.
DSU officials split the 2016 commencement ceremony into two separate events for associate degree graduates and bachelor's degree graduates due to lack of seating.
DSU risk management officers also suggested that no one should run on the Hansen Stadium track because of its poor quality, Williams said.
"Renovating the Hansen Stadium is a much needed project," Williams said. "It will add a lot to DSU and make St. George feel like more of a college town."
Beazer said DSU administrators have discussed funds for the Hansen Stadium renovations with St. George city officials.
"We're letting [St. George city officials] know that when the (Hansen) Stadium is renovated, it'll be the place to be for all kinds of community events like high school track meets and graduations," Beazer said.
Paul Morris, vice president of administrative services, said there are also plans to remove the practice softball field and replace it with a field that can be used for soccer and rugby.
Additional projects
Morris said there are several additional construction projects expected on campus in the coming years, including an expansion to the south end of the Gardner Student Center to allow for a bigger dining area, freestanding bookstore and parking garage.
An architect visited DSU March 3 to examine the Gardner Student Center to get the initial view on what it may look like once expanded. Morris said the architect will send artist renderings to DSU later this month of what the expanded Gardner Student Center may look like.
Projects like the parking garage are expensive and will need to be self-funded, Morris said. Parking tickets and parking passes will help pay for the parking garage, which is planned to eventually be built on campus at the corner of 800 E and 400 S.
Beazer said people at DSU will begin to see some new buildings start to "pop out of the ground" around campus within the next year and a half.
"It's an exciting time to be part of DSU," Beazer said.