Students cast their votes for three positions in the Dixie State University Student Association executive council last week and results were close.
Sarah Ramaker, a senior dance major from Midland, Michigan, was elected as DSU's next student body president. She won the election with 888 votes. C.J. Dever, a senior business administration major from Provo, lost to Ramaker with 817 votes.
Kendra Jensen, a junior English major from Richmond, is next year's vice president of academics and won with a total of 1,083 votes. Casey Banner, a junior secondary education major from Las Vegas, came in second with 622 votes. Zachary Reed, a sophomore accounting major from Peoria, Arizona, is the new vice president of clubs with 888 votes. Sara Wulfenstein, a junior business administration major from Pahrump, Nevada, lost to Reed with 817 votes.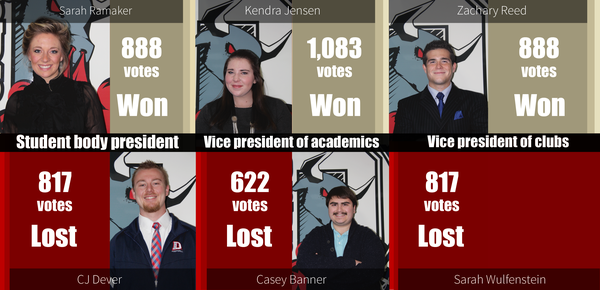 Ramaker said she is confident in her abilities to do the job well.
"I couldn't have done it without the support of the student body that willingly offered their time without me asking," Ramaker said.
Ramaker said she looks forward to working with current Student Body President Matt Devore through the end of the year to learn the ins and outs of the job.
"[Devore] definitely left big shoes to fill, and he's a good president to follow," Ramaker said. "I'm excited to work my butt off to try to accomplish even more."
Working with the senate to make cheaper textbooks available to students, working with D-Crew to increase student attendance at athletic events, and continuing Devore's current projects are among the goals Ramaker said she will accomplish as student body president.
"My main goal really is to make everyone feel like they can come to me and talk to me so they know the student body president is here for them," Ramaker said.
Dever said he doesn't think things are going to change in the coming year for the election process. He said he wants more students involved in DSU athletics and wants student government to help advertise the athletic events more. He said he didn't think highly of the election process and it was primarily a popularity contest.
"This election was won by the fact that someone was able to stick a phone in front of uneducated students and get a vote," Dever said.
Banner said he thought the process was fair but could be improved upon by adding another debate before the primary elections and a wider voting window in order to give the candidates more time to educate as many students as possible about their respective platforms.
Dever said he doesn't expect Ramaker to make much of a difference with DSU athletics during her term.
"[Athletics isn't Ramaker's] hot topic," Dever said. "It's not what she is going to go after."
Reed said he thinks athletics should get more publicity and said he has plans to change that during his term as vice president of clubs.
"[Athletes] represent [DSU] , so we need to do everything we can to promote them," Reed said. "I think that'd be a good way to get more students involved in the school."
Reed said he also intends to help move the Multicultural Diversity Center to the Gardner Student Center, which is already in the works, and to better advertise events.
The first of many projects Jensen said she hopes to accomplish is to build more crosswalks around campus "because safety is important."
She said she also hopes to build on the projects the current vice president of academics, Warren Anderson, has started, such as extending library hours.
"Even though I was not elected, a lot of my views and [Jensen's] views were parallel, so that's why I'm confident she'll get the job done," Banner said.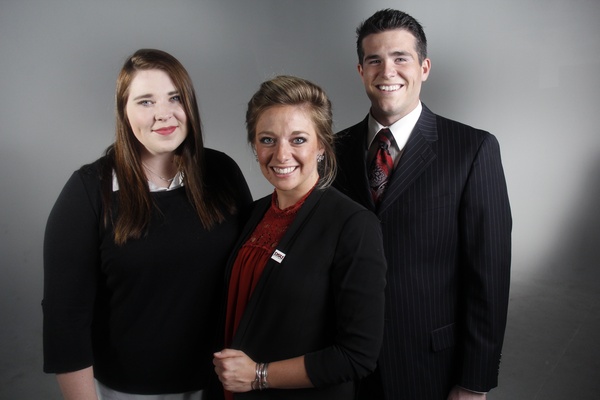 From left, Kendra Jensen, a junior English major from Richmond and vice president of academics-elect; Sarah Ramaker, a senior dance major from Midland, Michigan, and student body president-elect; and Zachary Reed, a sophomore accounting major from Peoria, Arizona, and vice president of clubs and organizations-elect, will serve on Dixie State University's Student Association's executive council for the 2016-17 year. The winners were announced Thursday.
This article was updated on April 1 at 10:27 p.m.