After Vintage at Tabernacle tenants spent the beginning of their fall semester packed away in hotels, some tenants said the long-awaited move in was not all it was built up to be.

Tenants waited over a month to move into the newly constructed building. The company responsible for leasing the apartments paid for students to stay in hotels, travel back and forth between the hotel and the university, and compensated students with university food cards.

Vintage tenant Nina Doerr, a freshman communication major from Las Vegas, said despite larger-than-life promises, lease agreements and more have not been up to par.
When students moved in there are lists taped to the inside of the pantry door of what was still left to do in each apartment; as the tenants continued their stays, items were crossed off as they were cancelled. Locks on bedroom doors and peepholes in the doors leading to the apartment were either implemented weeks after move in or have been withheld altogether. Students on the first two floors were only allowed to move in starting in November, and the pool and gym areas, which students paid for in their rent, were not open until the end of fall semester, Doerr said.
As tenants walk around each floor, they are greeted by unfurnished study rooms, stained floors and no building security.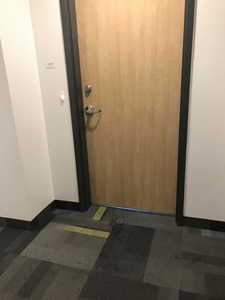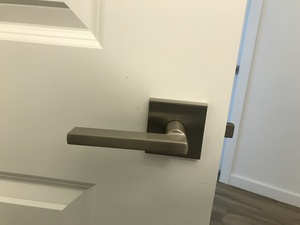 Wireless internet, promised in leases, was not available to tenants for over a month after students moved in, Doerr said.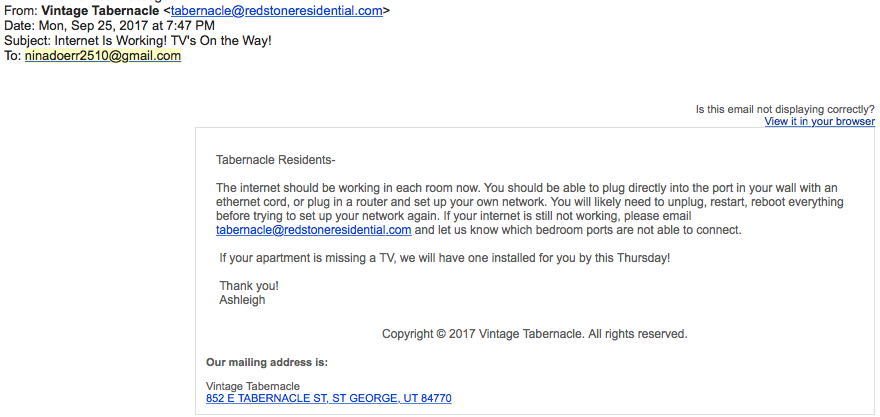 "While the parents were here, we had a security guard," said Sydney Taylor, a freshman history major from Antioch, California. "But after the first couple weeks, there was nothing."
Vintage at Tabernacle, despite being advertised as student housing, also responded to queries on Facebook stating: "You actually don't have to be a student to live here. Majority of our residents are students at DSU, but we have many who are not as well."
Doerr said the way in which the apartments were advertised made students and parents assume all residents were, but college-aged residents are rooming with non-students and some older men and women.

Upon moving to St. George, Doerr said she wasn't expecting to be greeted by an unfinished apartment, which she had paid for in full the April before her move. Instead of the fully-furnished home away from home she was hoping for, she was met with three randomly selected hotels, making the beginning of her college experience more than stressful, she said.
Doerr said, "For me to come up here as a freshman completely alone and to get stuck in a hotel — I actually got stuck into three different hotels — it was very stressful [for] me and added to that first-year stress."
Doerr said in some cases managers are Vintage at Tabernacle would call the night before or the morning of to tell tenants in hotel rooms they would be relocated and needed to be out of the room by a certain time. When tenants would call or email management with questions, they would get no response, Doerr said.
Taylor said the recurring upheaval from place to place put such a strain on her.

"Saying that [the experience] affected my anxiety is the understatement of the 21st century," Taylor said.
Taylor said the start of school can be enough to put her "out of sorts" without the constant moving and uncertainty of the situation. She was excited when she was finally able to move in, but she feels like nothing has changed, she said.
"This place has been nothing but anxiety for me," Taylor said. "It's actually been a really bad experience."
Other issues the students had were based on communication, maintenance and management.

"A really big part of [the issues] for me was the American with Disabilities Act compliance," Doerr said.
Students were welcomed back from winter break with the elevator broken and left unfixed for a week and a half. Since then, the elevator problems have continued, but management has been quicker to request repairs.
Doerr said before the latest elevator problems, there have been many times the elevator hasn't worked and for prolonged periods of time. She said bringing her books and groceries up the four stories to her room on the top floor is far from ideal when factoring in her scoliosis. She also said the emergency number for the apartment complex doesn't work, forcing them to call 9-1-1 when a girl who had a seizure was stuck in the elevator.

Taylor also has had respiratory issues, including a blood clot in her lung, and the seemingly-always-broken elevators place a lot of strain on her as she walks up multiple flights of stairs many times a day, she said.

Doerr and Taylor said there were no other options for housing when they were able to apply. Doerr said Vintage at Tabernacle was her last chance to live close to campus because she had no family in Utah. After signing her lease in July, Taylor said the countdown vanished from the website just before what she thought was move-in day.
"My mom was kind of skeptical, and when we got down here [the apartments] were nowhere near finished," Taylor said.
The apartment building has built up a plethora of negative reviews on Google Reviews, Facebook and Instagram, but Doerr and Taylor said the company leasing the building is bribing tenants to replace those reviews with positive comments.

"They sent out an email saying that if you leave a good review on Instagram or Facebook, they will enter you in a drawing for free parking for the rest of the year," Taylor said.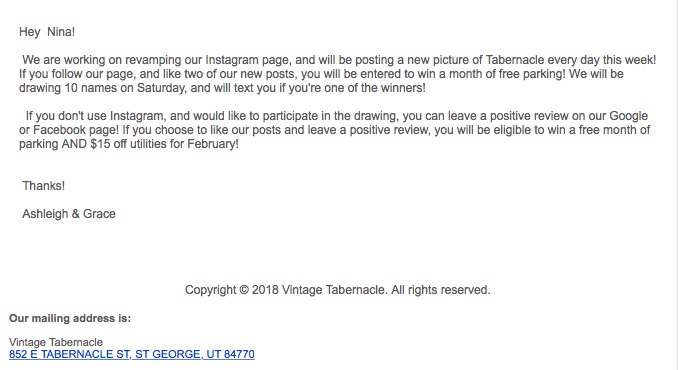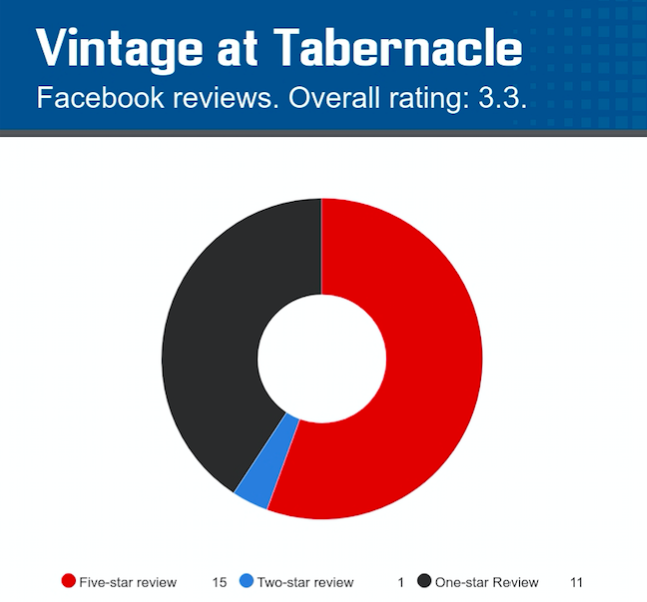 Vintage at Tabernacle currently has a 3.3-star rating. Of the 15 five-star reviews, eight were posted before the apartments were open to tenants. Another off-campus housing option for students is Campus Villas, located just across the street. Campus Villas also has a 3.3-star rating with three reviews, while another option, Raintree Apartments, have a five-star rating and one review.

Many of the negative reviews touch on the lack of communication among the company, management and the tenants, and one review details how tenants weren't told the community manager changed her phone number while students were still in hotels.
"If you're going to run a business, communicate with the people you're working with," Doerr said.
Despite all of the setbacks, the women understand the delayed construction can't all be blamed on the leasing company, but the company could have done a better job altogether, they said.
"All of this has just been super unnecessary," Taylor said. "This all could have been solved by having a better production date for when the move-in [day] was really going to be, and having a more stable set up for the kids who weren't going to be able to move in on time."
Despite apprehension regarding coming forward for fear of eviction, Doerr said she hopes her story will inspire others to look more closely at prospective housing, especially when it could seem too good to be true.
"I feel like no one really knows what's going on inside this student housing, and because we're students and because we're young I feel like we don't get our voices heard as often as we should," Taylor said. "And I think [Doerr] is right; I think people need to be educating themselves with all of the options."
When presented with the complaints and asked about delays, Vintage at Tabernacle Community Manager Ashleigh Nesmith said they are always trying to give the best to their tenants, and, despite set backs, will continue to uphold promises made.
"We had a few setbacks, but we have always done our best to provide tenants with the best housing opportunity we can," Nesmith said.