The Dixie State University women's volleyball team stomped on Rocky Mountain Athletic Conference rival Colorado Mesa University on Saturday the night of Oct. 26.
The final score from the match was three sets to one and the Trailblazers claimed their revenge over the Mavericks from earlier this season when they were swept by CMU.
Head coach Robyn Felder said: "Knowing what's on the line and coming into postseason, [we] want to host. So, I think the word is 'hungry' and we honestly wanted some revenge for what happened with [CMU's] win, so, we were playing for a lot emotionally."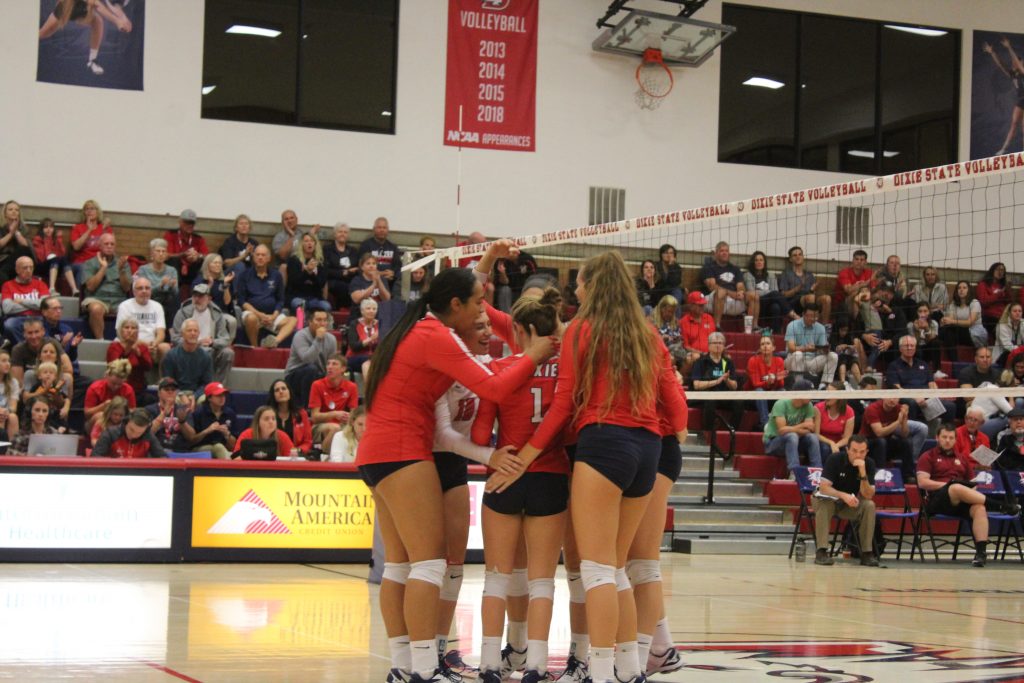 The women's volleyball team certainly are playing for a lot as they are currently No. 3 in the RMAC standings, according to the official RMAC website. Additionally, the 2019 RMAC Women's Volleyball tournament is less than a month away, according to DSU Athletics.
"We haven't reached our peak yet so we're hoping we get better from here on out because we have a couple of big games coming up," said middle blocker/outside hitter To'a Faleao, a senior recreation and sports management major from Lehi.
Right side hitter/middle blocker Lauren Gammell, a senior media studies major from Spanish Fork, helped secure the win for the Trailblazers by posting eight kills and 13 blocks against CMU, according to DSU Athletics.

With the 13 blocks Gammell got from the match, she broke her own DSU single-match record that she previously set earlier in the season. Also, Gammell now owns the DSU's single-season and career record holder for both block assists and totals blocks.
Gammell said owning those records felt good and she's excited for the rest of the season. She feels like the volleyball team is peaking at the right time and they're ready for the postseason.
"For [Gammell] to do what she did tonight against a team like [CMU] it's so solid," said Felder. "I mean, hats off to [CMU], they're a phenomenal team, but it shows that Lauren works so hard and it's about time she got that new record."
The Trailblazers will be back in action at home against New Mexico Highlands on Nov. 1 and Colorado State-Pueblo on Nov. 2. Felder said the team is excited to host NMHU and CSU-Pueblo. She wants to take the momentum from these matches and run with it.
Felder said: "We're heading into our last homestand, it's senior night and we're starting to peak. We haven't peaked yet but we're rising so it's fun when we can just play like [we did against CMU] and dominant."
The match against NMHU will be on Nov. 1 at 6 p.m. and senior night will be against CSU-Pueblo on Nov. 2 at 6 p.m. at the Student Activities Center.