The Dixie State University men's soccer team sealed the program's first-ever postseason victory after defeating Westminster College in the quarterfinal round of the 2019 Rocky Mountain Athletic Conference Men's Soccer Tournament on Thursday night at Trailblazer Stadium.
The Trailblazers defeated the Griffins, 1-0, after forward Moises Medina, a senior general studies major from Mesquite, Nevada, scored a top-shelf goal with 7:45 left in the second half from 31 yards out. This was Medina's 14th career game-winning goal – six were made this season alone.
Defender Idris Alabi, a sophomore biology major from Vail, Arizona, said it felt great to beat the Griffins again.
"They kind of had us in the first half being able to hold it, but we kept more possession and then we just kept our heads more and they got a red card and we were able to capitalize on that," Alabi said.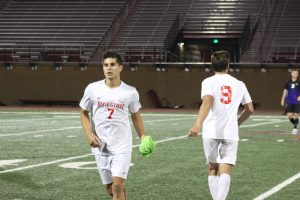 Head coach Jonathan Broadhead said while they have some seniors that can play big, he thinks collectively, the team's greatest strength is the freshmen and sophomores who are stepping up and keeping the momentum coming.
"The red card obviously changed the game, and I hate to put it on that but there was very little that was going to separate if it stayed even numbers and when the red card happened it kind of fell in our favor," Broadhead said.

John Joseph, a freshman design major from Richmond, British Columbia, had three shots on goal during the game and said although he feels he should have finished at least one of them, he thinks he played a role in bringing energy into the game, bringing his team chances and giving them hope.
"All I know is [the next round] will be just like today," Joseph said. "Whoever wants it more is going to win the game. It doesn't matter who is technically better, whoever comes out with the most energy and most heart is going to win the game."
The Trailblazers will now go on to play top-seed No. 14 Colorado School of Mines for the semifinal round of the RMAC Men's Soccer Tournament.
Alabi said, "They might have won the conference, but we're still confident going into this weekend, we're excited."
Broadhead said the team is looking forward to getting back on the road.
"We played them already," Broadhead said. "We know their strengths. They know what we do, so it's going to be a chess match, but just rest, recover, get on the road. The guys love the road, they almost think they like the road better than home."
DSU will face CSM on Sunday at 2:30 p.m. at Stermole Soccer Stadium in Golden, Colorado.
More in Sports: