The second night of Homecoming week at Dixie State University ended in the crowning of Miss Dixie 2015.
Sara Wulfenstein, a sophomore business major from Pahrump, Nevada, was crowned Homecoming queen and Miss Dixie Spirit Tuesday night at the Miss Dixie pageant.

"I just feel on top of the world," Wulfenstein said."I feel like I could go jump off something and I would live."
DSU Homecoming royalty also included first attendant Sarah Nilsson, who was also the recipient of the community service award; second attendant Sahalie Cindrich; third attendant Shellie Stirland, who doubled as miss photogenic; and fourth attendant Beka Amodt, who also received the director's award.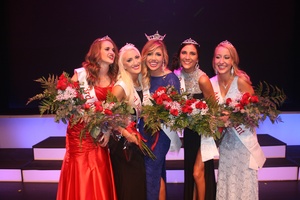 Homecoming royalty pose together immediately after their names were announced.
Pictured: Shellie Stirland, Sarah Nilsson, Sara Wulfenstein, Sahalie Cindrich and Beka Amodt.
The Miss Dixie pageant is part of the Miss America pageant system. Miss Dixie will compete at Miss Utah in June. Because the Miss America system has partnered with the Children's Miracle Network, each contestant is responsible for raising a minimum of $100 if she wishes to compete.

The pageant consisted of five categories: swimwear, talent, on-stage question, evening gown and interview. The interview portion was worth 30 percent of the overall score and is conducted before the pageant itself.
Wulfenstein's platform is focused on getting high school students college bound. Wulfenstein said she plans to help students in high school get to college and enjoy it.

She said she hopes to start impacting the community by visiting local high schools and inspiring students to go to college.

"I want to visit some local (high) schools here in St. George," Wulfenstiein said. "I'm also going on tour with Raging Red to promote [DSU] and college."
Nilsson, a junior integrated studies major from Centerfield, has competed in multiple pageants before Miss Dixie.
"I have done my hometown pageant, Miss Gunnison, (and) I won second attendant and a $400 scholarship," Nilsson said. "I competed in Miss Sanpete, Miss Dixie, the D-Queen pageant 2014, and now this year."
Nilsson skipped out on a trip to the lake last weekend in order to be as prepared as early as possible for the pageant.
"I feel like I have prepared really hard this year, and I'm trying to make my weakness into a strength," Nilsson said. "I did a lot of mock interviews and have them recorded then critiqued afterward."

Cassidy Tippets, a junior business major from Mapleton and public events chair for DSU Student Association, planned and produced the Miss Dixie pageant.
Although a dancer herself, Tippets said she prefers the backstage operations over the spotlight.
"I was on the public events committee last year, and I decided I wanted to help make this happen," Tippets said. "I just love getting to see the girls get so excited and helping them prepare."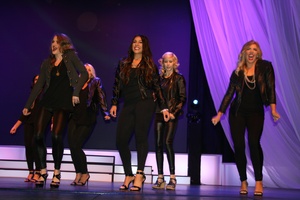 Gage Miller, a DSU alumni from St. George, said his favorite part of the pageant is the talent portion.
"I can't dance or sing, so I like to watch these awesome girls perform," Miller said. "I think it takes a lot of courage for them to share something that is so special to them with such a large crowd."
Wulfenstein competed in Miss Dixie in 2012 and was crowned third attendant. She was also first attendant in the 2011 Miss Pahrump pageant. She will compete at for Miss Utah 2016 in June.
"I would love to place at Miss Utah and do my best, but I am so excited to be Miss Dixie and represent the school and the students in a positive way," Wulfenstein said.