Students, family, faculty, alumni and enthusiastic locals turned out in force to support this year's "Rock the Red" theme for Dixie State University's 2015 Homecoming parade and Founders' Day celebration.
Hundreds gathered along Tabernacle Street to watch nearly 90 entries of floats, musicians and clubs make their way downtown toward the big, red "D' on the hill.
The north plaza parking lot of DSU was a flurry of excitement and smiling faces as final preparations were made to the parade lineup.
Tim Long, vice president of clubs and organizations and a junior business major from Hurricane, helped plan the event and said it was awesome to be involved.
"Last year was a little more chaotic than this year," he said. "Things are a lot more under control and organized, so it worked out a lot better."
Julie Bangerter Beck, a 1974 alumna of Dixie State College and former general Relief Society president for the Church of Jesus Christ of Latter-day Saints, served as grand marshall for the parade and led the first group of automobiles that carried this year's Homecoming royalty.
Miss Dixie Sara Wulfenstein, a sophomore business major from Pahrump, Nevada, and her attendants received loud cheers as they traveled along the parade route.
"It's so exciting," Wulfenstein said. "It's really fun because I am part of student government, and we have been planning this parade for a few weeks, so it's really cool to see it all come together."
The crowd cheered, "We love you and all you do for us," as its favorite entries passed by. Those included an impromptu shootout with the DSU basketball team, classic autos with the class of 1965, a live wrestling match by DSU wrestling, marching bands from across the county, and an assortment of candy flying through the air from every vehicle.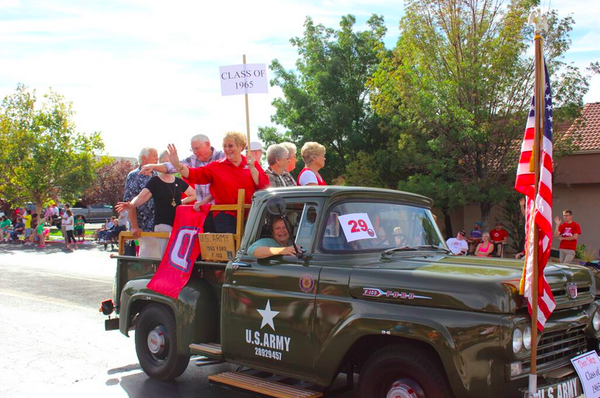 Alumni from the class of 1965 wave to the audience at the Dixie State University Homecoming Parade Saturday. The parade boasted nearly 90 entries. Photo by Jake Brown.
The celebrations continued at the 17th annual Founders' Day assembly and Hall of Fame induction ceremony at the St. George Tabernacle.
A large crowd gathered in the venue and were entertained with music from the DSU symphony band and chamber singers.
Toni Caplin delivered the tribute to the founders and reminded everyone the importance of supporting the "Dixie" spirit.
President Biff Williams presented the awards and thanked everyone for attending the event to honor this year's inductees: Franklin and Kathryn Richards, and Douglas Allred, former DSU basketball coach and athletic director.
To be considered for the Hall of Fame, each candidate must have a distinguished career and have made a lasting impact on the community and the university. Williams said each inductee not only met the criteria but exceeded them.
The Richards have been active supporters of DSU for twenty years, Williams said. They funded the development of the Kathryn Lloyd Richards Sculpture Garden located near the Eccles Fine Arts Center.
Allred served the DSU campus for over thirty years. He tearfully thanked former President Arthur Bruhn for asking him to take over the basketball program in 1963. He was the first coach to introduce DSU's program on a national stage and established a legacy of hard work and dedication that endures to this day, according to a biography written for the award.
Allred said he was honored to be selected to join the 92 previous inductees, which included a few of his former players.
"I'm an old coach [who] has been incognito for a while, but I appreciate it," he said. "I felt like Pete Rose."
The festivities concluded with a rendition of the DSU school song led by its symphony band. The audience would not let the band end without a second verse.
The DSU Hall of Fame display is housed at the Cox Auditorium and has been remodeled this year to give respect to past and future recipients.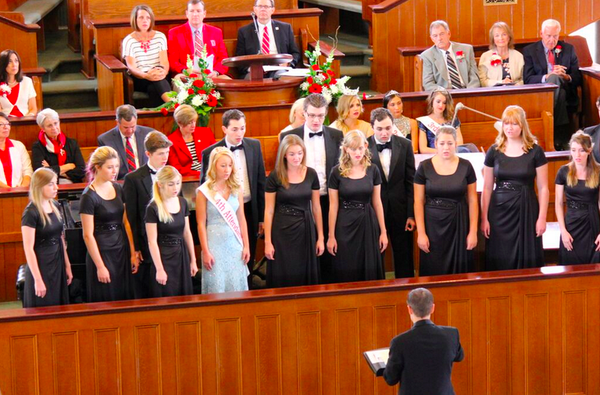 Students sing at the Founders' Assembly in the St. George Tabernacle Saturday. President Biff Williams presented the awards to this year's inductees to the DSU Hall of Fame: Franklin and Kathryn Richards, and Douglas Allred, former DSU basketball coach and athletic director. Photo by Jake Brown.