Students, faculty, staff, and community members gathered in the North Encampment Mall Wednesday to help honor veterans for Veterans Day.
Dixie State University's Veterans Club organized the event, and the celebration featured performances by DSU's chamber choir, a flag salute, and a keynote speaker. The Veterans Club also presented President Biff Williams with a special flag that will be displayed on campus.

Williams said the event united DSU's campus and community.
"If you looked out into the crowd, you'd see that … it really brought us together, so it means a great deal to me that we are having activities that really unite our campus," he said.
Jake Dursteler, a sophomore biology major from St. George, and a member of the Veterans Club, invited the audience to display red, white and blue ribbons that were distributed to support DSU's past, present and future veterans.

Chaplain David Jones, the event's keynote speaker and a family and consumer science instructor at DSU, served in the army national guard for nearly 15 years and recently transitioned to the army reserves.
"I don't regret it for a moment," Jones said. "For those of you who know the military life: There are certainly times where it's not fun, but when we look back, we don't regret it for a moment."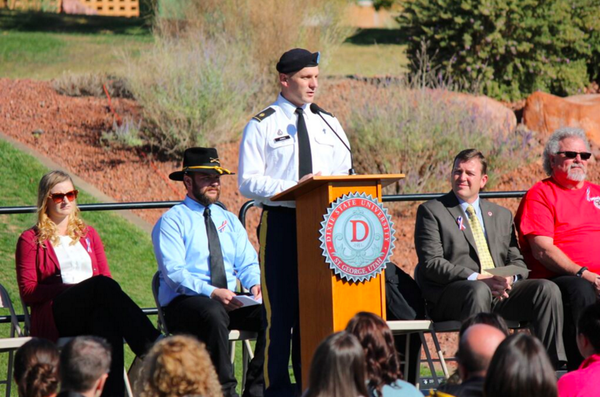 Chaplain David Jones, a family and consumer science instructor at Dixie State University, speaks at the Veterans Day celebration Wednesday. Jones spoke on the history of Veterans Day and why the public should be involved in helping veterans. Photo by Jake Brown.
Many students don't realize there are veterans on campus, said Melyssa Walton, a sophomore biology major from Rancho Cucamonga, California. She said she was at the event because she is a veteran of the army herself.
"A lot of [veterans] sacrificed a lot of years," she said. "I went overseas twice, and a lot of people who look at me in regular clothes would never know that."
According to a press release, DSU has been designated as a 2016 Military-Friendly School by Victory Media. This designation is awarded to schools that are focused on providing military personnel resources to aid in their success in and out of the classroom, according to the press release.
Williams said a member of the Veterans Club approached him shortly after he became president and asked him for more resources for veterans on campus. Williams said he would oblige, and he felt like he didn't even need to be asked.
Rylan Kellum, a freshman nursing major from Mountain View, Wyoming, and singer in the choir that performed at the event, said performing on Veterans Day was emotional, especially during "Amazing Grace."
"Emotions ran high," he said.
Veterans Day was originally known as Armistice Day because it signified the signing of the armistice of the allies in Germany on the 11th hour of the 11th day in the 11th month in 1918, which brought an end to the hostilities of WWI. The Veterans Day celebrated today was first observed in 1954 when Dwight D. Eisenhower issued the "Veterans Day Proclamation" that changed the name of the holiday in order to recognize all veterans and veterans' organizations.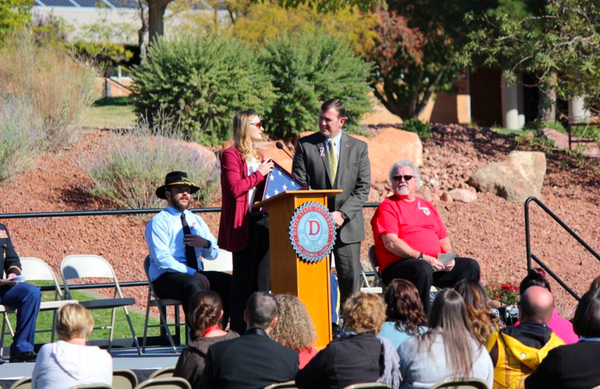 President Biff Williams receives a flag that had flown over the nation's capitol for his efforts in helping veterans at Dixie State University. The Veterans Day celebration featured songs from the DSU Chamber Choir, a flag salute and a keynote speaker.
Dursteler said it was an honor to be involved in the event because it was a small way to show respect for veterans. Although he served in the army, he said he's never really wanted any kind of recognition.
"Being part of the Veterans Club isn't about being recognized, but it's about helping other veterans," Dursteler said. "It's not just about issues, but it's to help them get back on track with civilian life because it's so different."
Jones said Veterans Day signifies much more than just commerce and recreation, which is why it's not observed as a federal holiday.
"It's about remembrance," he said.
This article was updated on Nov. 12 at noon.