A hero in the security team that responded to the terrorist attack in Benghazi, Libya, visited Dixie State University Monday to speak about an average Libyan day that ended in a battle for American lives.
Kris "Tanto" Paronto, a DSU alumnus and the protagonist of the movie "13 Hours: The Secret Soldiers of Benghazi," is one of the six men who helped defend the U.S. State Department Special Mission Compound and a nearby CIA station in Benghazi Sept. 11, 2012. Paronto and his team engaged the terrorists for 13 hours, saving over 20 lives in the process.
Paronto said the story has been politicized since then, and the truth has been lost in its interpretations. Paronto had to resign from his job to tell the truth about what happened in Benghazi.
"This needs to be remembered as an inspirational story … not a political story," Paronto said. "The story got hijacked by politicians to push agendas … They forget the honor and the courage that was displayed that night."
The Gardner Student Center Ballroom was packed as community members, students and faculty came to see Paronto deliver his speech.
"[God] lets you find beauty in everything," Paronto said describing tracer rounds, airborne RPG missiles and explosions he would commonly see from his front porch in Benghazi. He said seeing "a firefight from a distance" is something that should be on everyone's bucket list.
In the heat of the battle, Paronto said he found himself vulnerable and exposed to enemy fire when the vehicle he was taking cover behind was gone. With nothing else left to do, he took a knee and started shooting.
"I [wasn't] worried about getting hit," Paronto said. "I know there's God … There are situations where you feel he's there. You feel warm. There's like a golden cocoon around you and nothing's gonna hit you."
Paronto addressed controversial details of the incident, such as the reason for the 20-25 minute delay caused by heavy enemy fire that forced his team to stop 400 meters from their original target.
Paronto recieved a standing ovation from the audience at the end of his speech.
Mike Long, a senior psychology major from Hurricane, said Paronto's speech offered DSU students an entirely new perspective on the events that took place in Benghazi.
"I heard a lot about Benghazi when it happened, and I know there's a lot of controversy about it," Long said. "Him making it more real and being pretty straightforward with everything that happened was something I appreciated."
"Both my grandpas served in the military," said Lewis Wilde, a senior biology major from St. George. "There's something special about [people] who serve this country. I really liked … how faith helped him get through what he's been through and how faith can help us get through any challenge that we face."
As for his thoughts on DSU, Paronto said he had a blast in his time as a DSU student.
"It was a good experience," he said. "I wish it was a four-year school [back then]. I would have loved to stay here for four years. I didn't want to leave."
The movie "13 Hours" is currently in theaters. One hundred DSU students received free tickets for showing up early for the speech. Paronto, on the other hand, was presented with a DSU football jersey as a gift from his alma mater.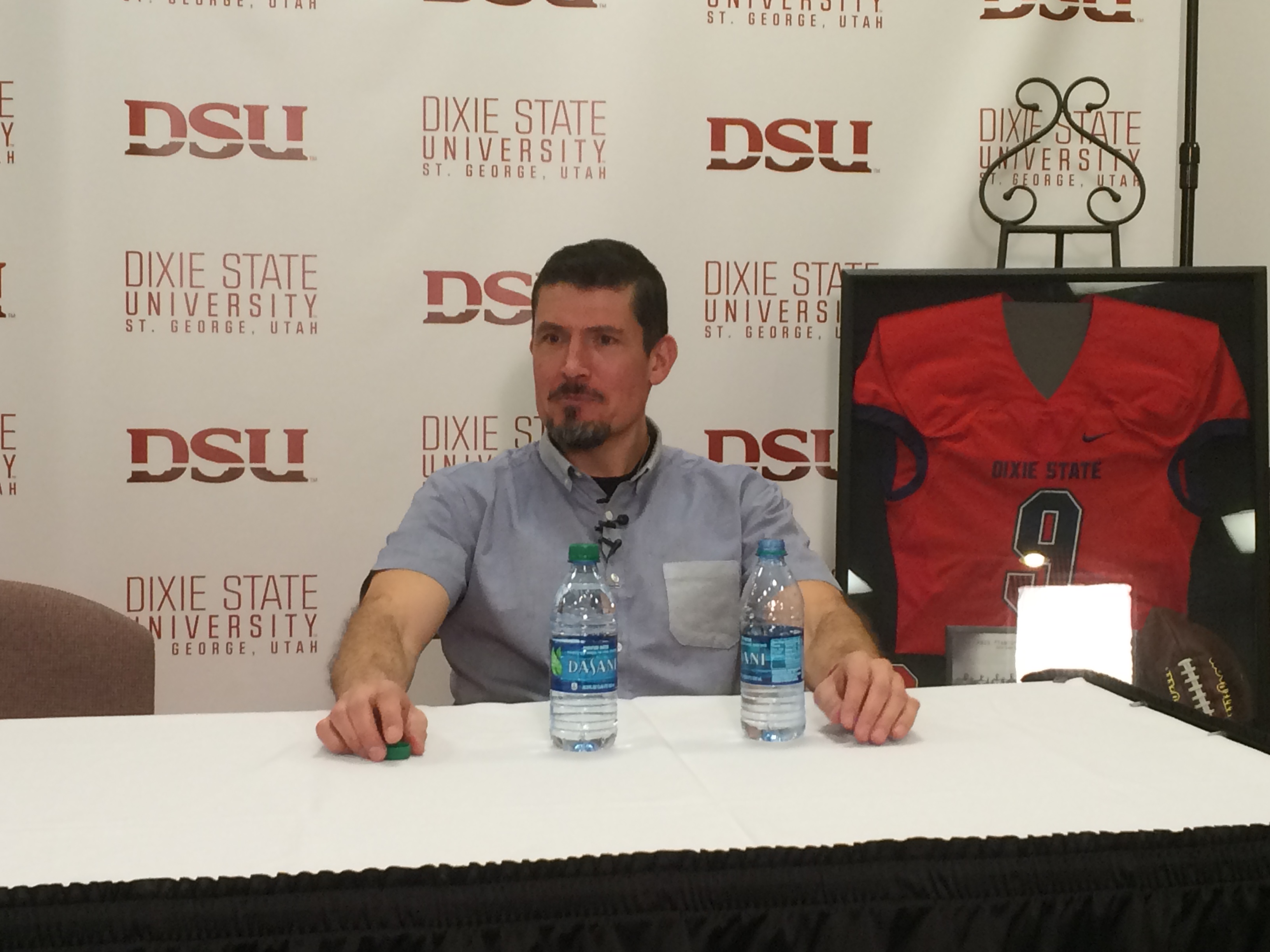 Kris "Tanto" Paronto speaks Monday at a press conference at Dixie State University next to a DSU football jersey he was presented with. Paronto, a member of the security team that responded to the terrorist attack in Benghazi, Libya, spoke to a packed audience in the Gardner Student Center ballroom.