Dixie State University coaches are more than just leaders on the field or the court. They were once, or still are, athletes themselves
Coach Simkins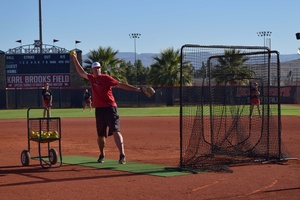 For Dixie State University head softball coach Randy Simkins, college basketball taught him a lot about coaching.
Simkins is a Southern Utah University alumnus. As a senior, Simkins lead SUU in minutes played, games started and rebounds. He said he learned a lot about what influenced players and what didn't by the way his coaches trained him and the team.
"I learned what you should do and what you shouldn't do as an athlete," Simkins said. "I also got to see what coaching strategies worked because I had many coaches throughout my life."
Simkins said he understands players' perspectives on coaches, and this helps him understand his athletes.
Although Simkins was a basketball player, he has always been a fastpitch softball player too. He grew up in Lincoln County , Nevada, and each of the four towns in the valley had a men's fast pitch team.
"I grew up watching fastpitch tournaments and leagues," Simkins said. "That's just what you did in my town. I didn't even know slow pitch existed until I moved out."
Simkins said playing fastpitch gives him the ability to respect the game, and reminds him it can be extremely difficult to play.
"It's tough," Simkins said. "Some of the best players in the world play in the competitive fastpitch league. I like that it's fast pace. I like baseball too, but baseball takes a long time."
Simkins said he got into coaching because of his high school basketball coach.
"My coach was just such a fair, honest and hark-working person," Simkins said. "He was a role model to me, and he inspired me to get into coaching and to give back to the game."
Simkins has lead the DSU softball team to several NCAA Championships, and he has an overall win percentage of .782.
Coach Felder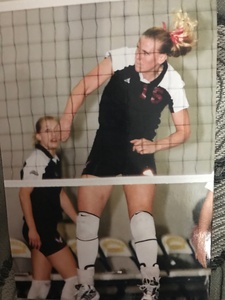 Head volleyball coach Robyn Felder knew right when she graduated from high school she wanted to play in college.
"I love the game, and I wanted to stay involved in any way I could," Felder said.
Felder attended Ricks College (now Brigham Young University Idaho) where she was an outside hitter NJCAA First Team, All-American.
"I got quite a few D1 offers, but I figured I would sit the bench if I chose one of those schools," Felder said. "So I went to Ricks where I knew I'd get more playing time."
Felder got married her sophomore year and transferred to Eastern Washington University where she played volleyball and her husband football. While at Eastern Washington, Felder was a two-time First Team All-Big Sky Conference selection, named Newcomer of the year, and was an Academic All-American.
"During college I played for two completely different coaches with different styles," Felder said. "They both definitely made me want to become a coach."
Felder said she loved volleyball and saw how influential coaches could be, which swayed her to start coaching.
"There's just something about teaching and molding these young athletes that's really fulfilling," Felder said. Felder is currently in her sixth season of coaching volleyball at DSU, is a two-time PacWest Conference Coach of the Year.
Coach Broadhead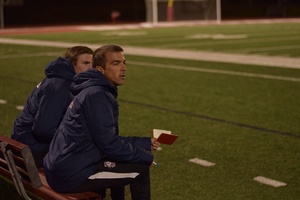 Head soccer coach Jonny Broadhead said his experience at Colorado State University-Pueblo was so special he wanted to move into coaching himself.
"Being able to be tight with your team and to live on your own while helping others grow shaped me and who I am," Broadhead said. "So I just wanted to give back and help others gain that experience."
Broadhead was a midfielder and four-year letter winner at CSU-Pueblo.
"Being a player helped me learn and teach that when your highs are high and your lows are low just try to stay grounded and trust your teammates will help with the process," Broadhead said. "Doing that will keep everything in perspective."
Broadhead said his brother was a player coach on the United Soccer League's Player Developmental League, which was the first place he was able to play with him because of their age difference in school.
"Everything I learned was from my brother Matt," Broadhead said. "Watching him coach the level I was on taught me a lot about coaching in general."
Broadhead earned All-PDL Honorable Mention honors in 2008.
This is Broadhead's first full year as DSU's head coach. He joined DSU's staff in December, and the team is currently 6-3-0 in PacWest play, with three games left in the PacWest conference.
Coach Esplin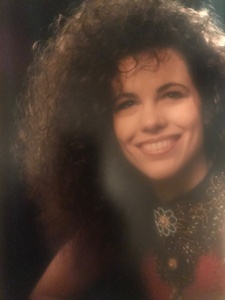 Kori Esplin, head coach of the DSU Blaze Dance Team, is a former member of DSC's Rebelettes.
Esplin started dancing when she was 2 years old, and she continued up until she was able to coach.
"When I danced at Dixie, the team only performed at a few games every year," Esplin said. "The team has evolved a lot since then."
Esplin was born and raised in St. George. She has taught, coached, judged and danced for every genre of dance.
"Through being able to see DSU's development as an athlete and a coach, I could develop and grow the dance team with the school," she said.
Esplin said Pat Roper, a DSU Hall of Famer and longtime cheer and dance advisor, and Diane Hafen, BYU cougarette coach, are two people who influenced her to coach.
This is Esplin's 20th year as a DSU coach.