Have you ever been to an art exhibit? If not, now is your chance to go. Claudia Hecht, an award-winning artist, is currently displaying her prized pieces in the Dixie State University Sears Art Museum.
Hecht is a Mexican-American artist who has had various exhibits across the world showcase her work. According to her website, "Hecht has melded those influences and created a unique style, which is largely characterized by the prominence of abstract hybrid figures and forms, often derivative of distinctly Mexican themes, the degree of abstraction depending upon the underlying aesthetic and the choice of colors shapes and proportions used to achieve such."
Related Posts:
Hecht's art is typically based on Incan and Mayan cultures with a modern twist.
David Newren, her representative from Arte Divine, said "Well, as an artist, [Claudia] uses all mediums: she draws, paints, [and] uses mosaics. She doesn't just limit herself to one technique. Most artists can't achieve that."
Hecht's most popular art pieces include "Transformation", "Luminary" and "Abundance".

Print version: Hecht's art includes pieces such as "Transformation" which depicts a large two-headed, two-faced green sculpture with a dog face and a human face, "Luminary" which stands tall with colorful pillars and flame-shaped tips pointing upward, and "Abundance" which displays a large silver curved sculpture.
Art Professor Glen Blakely encourages students in all creative genres to participate in the art exhibit as a means of inspiration.
"When I saw some pieces [in the exhibit] that were inspired by Klimt, Picasso, and the areas in Mexico, I thought I just need to gear up another notch, and it made me want to do better and bigger and more beautiful works of art that I've ever done," said Blakely.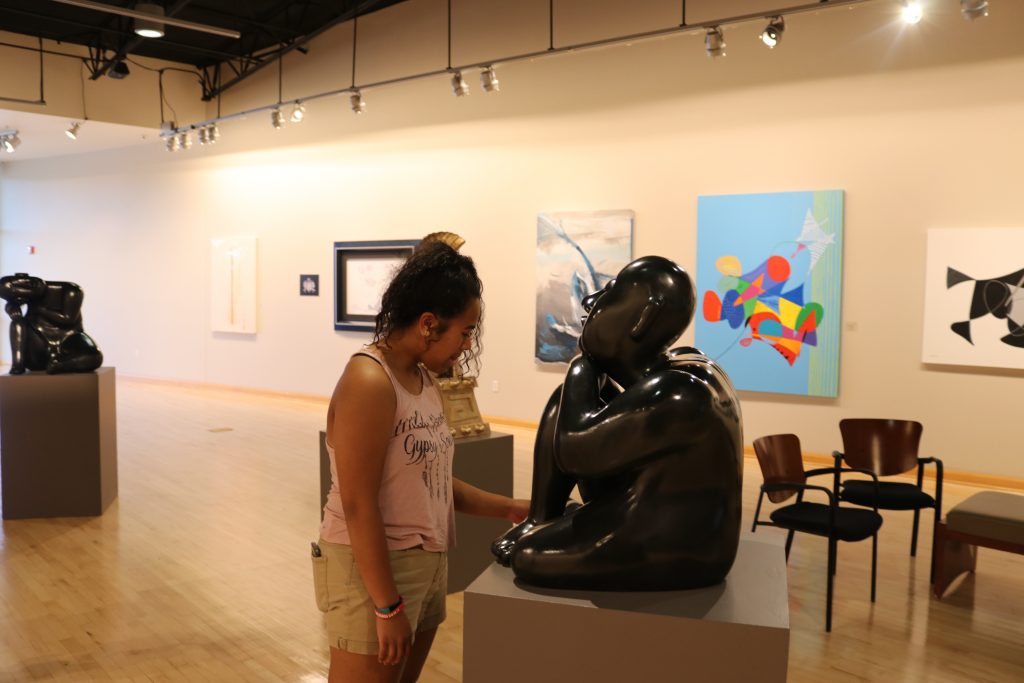 Hecht is known for her unique techniques where she Produces art on large gold leaves and wood, large scale sculptures (up to 700 pounds) and painting and sculpting intricately on various materials.
"Claudia started a technique that artists copy from her, and not many artists can start a movement like that," Newren said. "She's not following anyone else, she's blazing the trail."
"I really love all primitive culture," Hecht said. " African, Hindu, and many others. I get inspired by them but I do my own version… My art is something I developed myself, I created my style, with my own contemporary style… I want people to see that."
The selection of sculptures and art in the Sears Art Museum Exhibit is a showcase of Hecht's favorite pieces that remain in her private collection; they are not for sale.
Hecht's work will be displayed at the DSU Sears Art Museum until Oct. 18, You can visit for free Monday-Friday from 9 a.m-5p.m.