A new and improved space for theater, dance and art departments has made its appearance on campus.
The newly constructed Graff space, located just beneath the original Graff building, is just about finished. All that is left is the installation of proper ventilation and the addition of blinds.
Faculty members had to rapidly move out of the Performing Arts Building the week of Nov. 11 so demolition of the PAB could begin around Nov. 18, said Glenn Webb, assistant professor of music.
"We were told that the bulldozers were going to come in this week, so we had to get moved into the [Graff] as soon as possible," Webb said. "The university doesn't want to get behind on their construction schedule of the Science, Engineering & Technology building, which makes sense."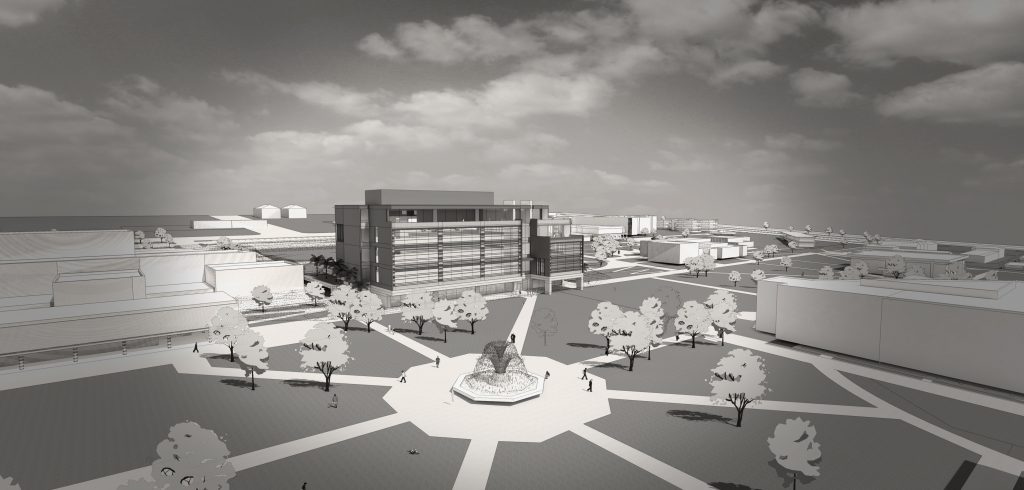 Jon Gibb, director of facilities planning and construction, said the PAB is being torn down because the new SET building is going in its place.
Emily Workman, director of vocal studies, said the new space not having proper ventilation and blinds for the windows makes the south-facing offices extremely hot.

Workman said in the afternoon her office will get up to 89 degrees.
"They should have the ventilation up and running this week as well as the shipment of blinds," Workman said. "All of us faculty in this building are really excited."
The new space has faculty offices for theater, music and dance as well as practice rooms for students that are spacious and are sound suppressed, Webb said.
"Even though it has been a bit chaotic the past couple of weeks, this new building is a great addition and provides students with new and improved music rooms," Webb said.
Gibb said the construction costs of the new building was $975,000.
The first change order was $26,277 and the second change order was $20,757, Gibb said. These change orders were increases in the original budget and occurred because it was determined as construction was underway that it would cost more than originally planned.
"I am really thrilled with this building," Workman said. "Even though there have been bumps along the way, students love it. They are always here practicing and that is something I haven't seen in a long time."
Workman said the practice rooms in the PAB building had no windows and students couldn't spend long in the rooms without feeling depressed. She said the new rooms have big windows and students are much happier.
Webb said the practice rooms don't have exact hours students can use them, but the goal is to have them be the same as the library hours.
"The practice rooms are for all students, no matter their major," Workman said. "We as a faculty really hope to see students take advantage of these rooms all the time."