Dixie State University has nearly completed its first year as a Division I institution, and with that comes a lot of firsts, big moments and individual accomplishments from the 15 teams across campus.
As the year comes to a close, there are some moments that, from the perspective of the internal and external media, showed DSU is truly DI caliber and here to stay.
Men's Basketball's 74-73 and first DI win over the University of North Dakota on Dec. 2
Although women's swim was the first team to compete as a DI institution, men's basketball's tussle with the Fighting Hawks was the first time DSU had a home game and home victory in the DI era.
Dixie Sun News sportswriter Michael Santoscoy, a senior media studies major from Montclair, California, said, "I think [men's basketball was] the program that officially made the statement, 'Oh yeah baby, we're Division I, so let's go show our fans we've been working hard to compete at this new level of competition.'"
This hard-fought win over the Hawks topped with 19 points from Frank Staine, a sophomore accounting major from Inglewood, California, proved that DSU and this men's basketball team had stepped up to the Division I level.
Chris Kwiecinski, The Spectrum & Daily News sportswriter, said, "It was a classic Juddy game: Out-hustle a team with the team you have and out-coach them with a good IQ."
Men's basketball went on to be 8-13 this season, but with statement wins over Utah Valley University, California Baptist University, and Seattle University, the 2021-22 season looks promising.
Football's 60-0 blowout over Fort Lewis College on March 27
DSU football had two statement wins in the 2021 spring season. One was a season-opening 26-14 road win over Tarleton State University, and the other was a 60-0 blowout of Fort Lewis College.
The win over Tarleton proved early that DSU football had used the extra preparation time well and was ready for its DI debut. Although there was some stumbling along the way to the 60-0 win against Fort Lewis, the Trailblazers closed out the 2021 season with a statement over a former Rocky Mountain Athletic Conference opponent.
"[Football] proved they are ready for the DI transition by blowing out a former conference opponent in the DII era," said Dixie Sun News sportswriter Brock Doman, a senior exercise science major from St. George. "Fans were in the stands showing their support, and all cylinders were firing for the Trailblazers as they put together a full game in every aspect."
Baseball's walk-off 5-4 win over Brigham Young University on March 16
DSU baseball got off to a wobbly 0-10 start in their DI debut, but after a 19-13 win against New Mexico State University was followed up by a walk-off win over BYU, the team hit a streak of promising games. This game was the first win against a big in-state rival, which proved the team's future is bright.
"The walk-off win set the team on a solid piece after that, winning four of the next six," Kwiecinski said.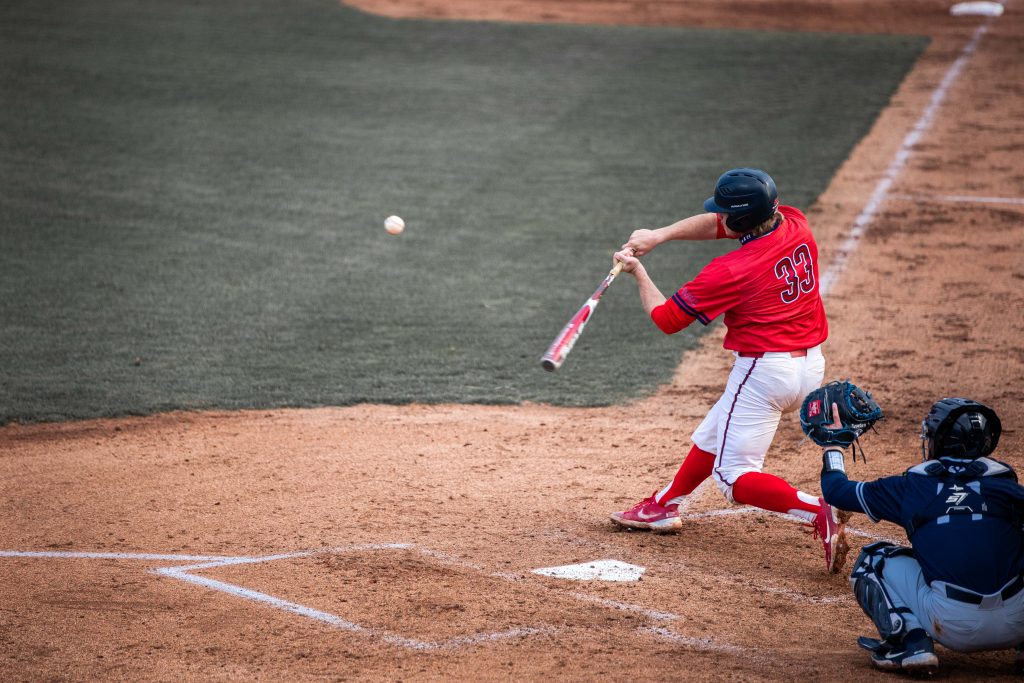 In the following weeks, baseball saw a 9-7 win over in-state foe the University of Utah and a no-hitter from Jimmy Borzone, a junior communication studies major from Vancouver, Washington, in a 5-1 win over Tarleton State University.
The Trailblazers are currently 7-9 in conference play and 9-20 on the season, only improving the longer the season goes.
Volleyball sweeps Southern Utah University on Jan. 22
Heading into the season opener in the America First Events Center in Cedar City, not many probably had DSU women's volleyball pegged to come out with a win, never mind a sweep over the Thunderbirds.
"To go out and sweep SUU 3-0 is a huge deal especially for bragging rights," Santoscoy said.
Bragging rights for the best team of southern Utah were undoubtedly won. Especially with key losses at the end of the 2020 season for the Trailblazers when seniors Lauren Schofield and To'a Faleao graduated and left the program, the Trailblazers didn't miss a beat in 2021.
With head coach Robyn Felder stepping down, next season may look a little different, but the Trailblazers still have a lot of young talent on their roster to keep them steady.
Women's soccer's back-to-back 4-0 wins against Chicago State University
DSU women's soccer went through changes this season, including the addition of a new head coach, Molly Rouse, but still had a handful of highlights to show for its 2021 season. Two of these games are the two 4-0 wins DSU got over Chicago State.
Whitley Griffiths, a redshirt junior social science composite teaching major from Gilbert, Arizona, had a hat trick and brace in these two games for five goals over the series. Additionally, Adelle Brown, a senior recreation and sport management major from Birmingham, England, saw two shutouts in the series.
These games were the complete performance Rouse was looking for from her team for most of the season. She got offensive and defensive success for two games, which she didn't see for a complete 90 minutes through some of the season.
Honorable mention: Men's basketball's 85-78 loss to SUU
On paper, this just looks like a loss. But men's basketball's showing against a big rival who eventually became Big Sky Conference Champions is nothing to scoff at. The Trailblazers outscored the Thunderbirds in the second half and proved that although DSU is new to DI, the rivalry with the Thunderbirds isn't going to be a cakewalk for either side.
St. George News sportswriter Rich Allen said, "Looking back, knowing what we know now about where SUU ended up and that they're going to be conference rivals soon, that game just set the table for what should be a fantastic rivalry, probably the marquee head-to-head the schools are going to have."
This game will go down in the record books as a loss, but anyone who watched that game could tell you it is the start of a new rivalry in southern Utah.
Athletic success as a whole
There were a lot of successes for the teams across DSU Athletics this season. Whether it's the school records broken by women's swim, cross-country or track and field, the winning record softball continues to own, or men's soccer beating a previously undefeated UTRGV at home, there's no shortage of historic moments from DSU's 2021 athletic season.
Though, above all else, "nothing is bigger than all 15 of our athletic programs embarking on their NCAA Division I journeys, especially while facing an ongoing global pandemic," said Steve Johnson, DSU associate athletics director for media relations.