We've all heard people say, "I listen to any kind of music except country." But, why is that?
Now I'm not saying country music should be at the top of everyone's list. What I am saying is please give it a try.
While I understand most of today's country music doesn't sound like country music, there are still artists who create authentic music. If they were given a shot, I'm sure many people would enjoy them.
Here are a few reasons why everyone should give country music a chance.
Storytelling
Country music is all about storytelling. With a lot of country music today, there seems to be a common theme of lyrics pertaining to trucks, beer and girls. Not that I want to call any artist out on this but a few who have these common lyrics include Luke Bryan, Jason Aldean and Florida Georgia Line.

With songs like "Country Girl," "One Margarita" and "Drink a Beer," Bryan takes the crown for having meaningless lyrics. While some of those songs may be catchy, "One Margarita" is a song that is truly painful to listen to.
For music with meaning and a storytelling aspect, newer artists like Ian Munsick, Cody Johnson and Jon Pardi illustrate stories through their music.
With songs "Diamond in My Pocket," "'Til You Can't" and "Me and My Kind," Cody Johnson releases music that's not about trucks, beer and girls.
The song "'Til You Can't" tells the story that sometimes there aren't second chances in life. The song "One Margarita," however catchy it may be to some people, has absolutely no meaning. When someone can listen to a song that paints a story, why would they opt for lyrics that are ridiculous?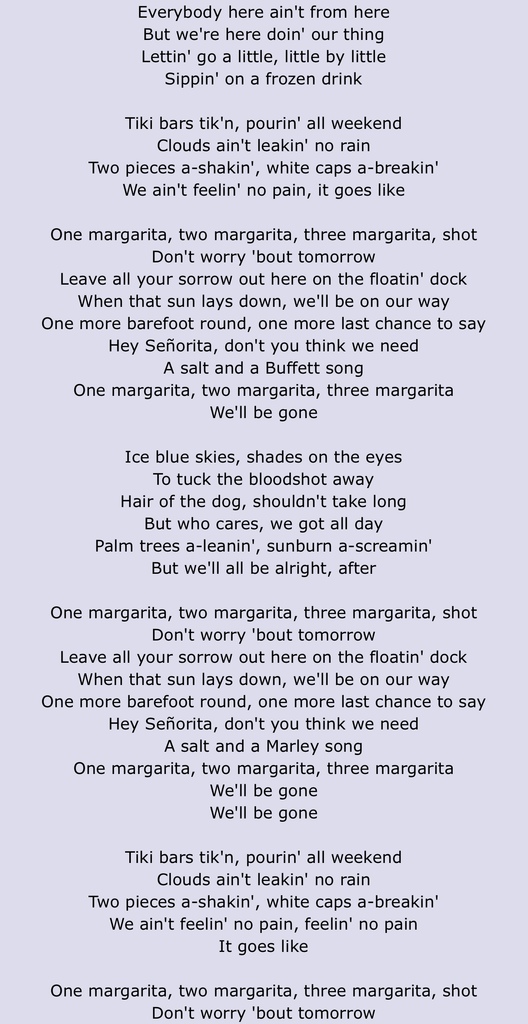 Doesn't have to be "old"
When some people hear the term "country music" they immediately think of the word "old." While I personally have a liking for older country music, there is country music made today that presents modern issues and lessons.
Kacey Musgraves' song "Follow Your Arrow," Tim McGraw's song "Humble and Kind," and Eric Church's song "Hell Of A View" all present modern day topics that prove country music isn't just "old."
"Follow Your Arrow" is about breaking down hate and learning to live life authentically without care for what others may think which is relevant to everyone. Everyone deals with trying to live without concern for other people's opinions.
"Humble and Kind" teaches the lesson to treat others how you would want to be treated. It is especially relevant because most of us, as humans do, get so caught up in our own lives that sometimes we forget to think about the people around us. This song emphasizes the good in humanity and has a call to action for everyone to always be kind and enjoy living life. It is truly one of the most beautiful songs ever written and recorded.
"Hell Of A View" explains the feeling of living life to the fullest and doing whatever one pleases. It's about leaving something behind to experience something new, which is a feeling a lot of college students can understand.
All of these songs, along with many others, display how versatile country music is, and it really does present modern day topics.
Relatable for some and escapism for others
People listen to country music for a variety of reasons, and some of them include the following:
Some individuals grew up listening to country music.
Country music reminds people of someone they love.
Some people relate to the stories told through country music.
I listen to country music because I grew up listening to it, and I somewhat relate to it.
Many people who genuinely enjoy listening to country music are able to relate to it in some way. Others assume they don't like country music just because they can't relate to it.
Just because a person can't relate to country music doesn't mean they should dislike or hate it. If the relatability factor isn't there, the escapism factor is.
A perfect example of this would be Texas Roadhouse. People love that place because there is that sense of escapism from everyday life. The country environment that is enhanced with country music creates a relaxing space. People who claim they dislike country music visit the restaurant to actually enjoy country music.
Many artists release music that gives country music a bad name, but there are artists out there who create country music that is genuinely good if someone is just willing to listen.
While there are many reasons why everyone should give country music a shot, not all country music fits in one boot. There's a country song and artist out there for everyone.