Lively drumming and music filled a sold-out theater on the opening night of the Dixie State University Dance Company's Fall Dance Concert.
Young and old filtered into the main auditorium at the Eccles Fine Arts Center Nov. 20 and 21 to witness the company's 27th and 28th performance. In celebration of the new Bachelor of Arts or Science dance degrees, the opening number was an energizing, traditional Guinean dance called "the Kuku," with performers dressed in vibrant costumes.
The concert represented a variety of genres, with a mixture of classical, tap, modern, hip-hop and ballroom. Sarah Ramaker, a senior dance major from Midland, Michigan, and Alivia Snow, a junior dance major from St. George, performed solos. Applause from the audience was exceptionally loud for two routines: a hip-hop routine narrating a cop and gangster conflict and a western all-men number that inspired smiles and laughs from the audience.
Live piano and violin accompanied dance instructor Kyudon Kwak and Sahalie Cindrich, a sophomore dance major from American Fork, as they performed a classical duet with leaps and overhead lifts.
The performance received standing ovations both nights.
Li Lei, dance professor and director, said the students are her greatest joy. She said she appreciates their dedication and hard work. Lei said the greatest challenge was the high turnover of dancers every semester, because until this fall, DSU had not offered bachelor's degrees in dance. New dance degrees were approved in August.
Lei said she is confident in the future of the dance program and grateful for DSU administration's support.
"I am ready to take [the dance program] to a higher level," she said. "We are ambitious to build a degree program with a high professional reputation."
Matthew Setoki, a junior dance major from Oakley, Idaho, is a scholarship student in the dance program. Setoki said two years ago, he didn't dance. Setoki said he learned how to dance with Lei's encouragement.
"It's changed my life," he said.
Auditions for dance majors and scholarships will begin Feb. 27.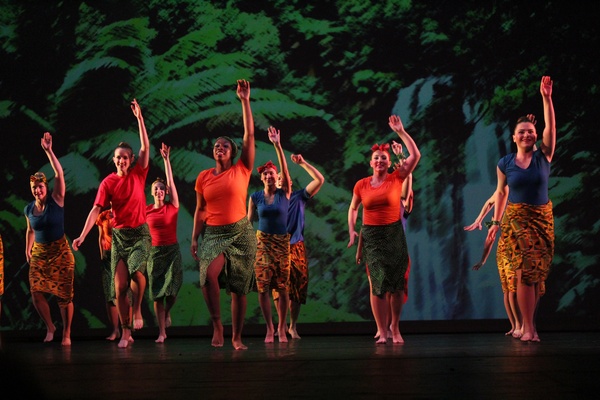 Members of the Dixie State University Dance Company perform a traditional Guinean celebration dance at the Fall Dance Concert Friday. The Dance Concert featured several performances from DSU's dance students Friday and Saturday. Photo by Emily Fisher.