The Campus Store will host a curbside textbook buyback and rental return to accommodate students during social distancing.
The Dixie State University Campus Store, which has had its physical store operations shut down to slow the spread of COVID-19, will still be hosting its semesterly textbook buyback and rental return, but the event will now be done curbside at the dock behind the Kenneth N. Gardner Student Center.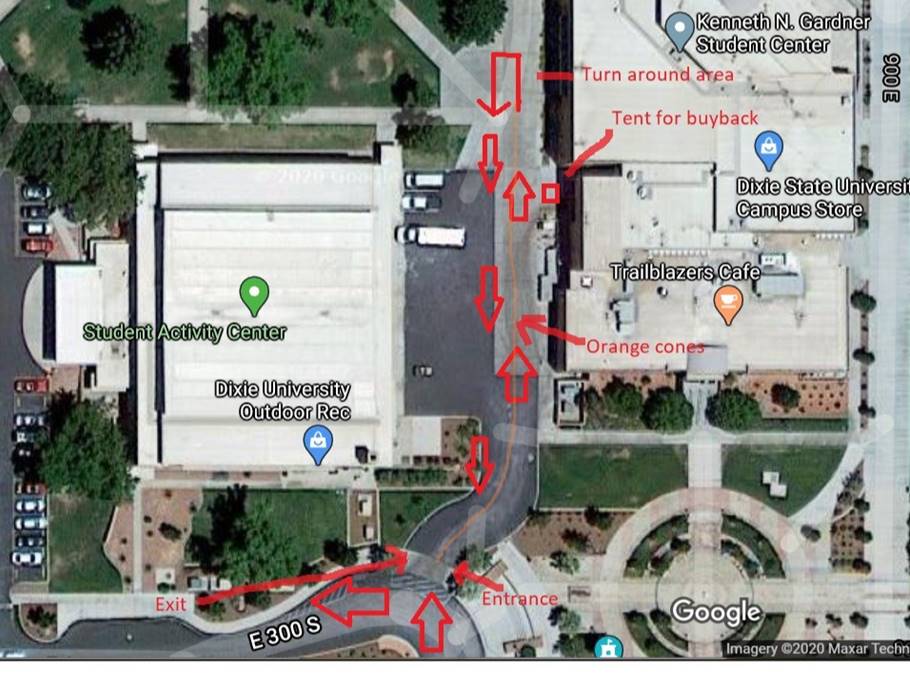 "The idea for having the buyback outside is for social distancing and protection of all who'd like to sell their books back and helping them make sure they don't get the COVID-19 [virus]," said Paul Morris, vice president of administrative affairs.
Textbook Manager Claudia West said students have been notified via email of the option to mail in their rented textbooks and will soon be notified of the recently-approved curbside buyback.
"I wanted to make sure I had approval for a curbside buyback and rental return before [sending out any information]," West said. "The students will drive up to our dock on the west side of the Gardner Center. We will take every safety precaution necessary to keep our employees and students safe."
At the DSU Student Town Hall Meeting held virtually on April 17, Jordon Sharp, vice president of marketing and communication, said multiple students submitted questions regarding the textbook buyback and rental return, and referred to the subject as a "hot one."

Morris listed three ways students can participate in the textbook buyback and rental return: following online instructions through a third-party partner, driving to the curbside buyback or walking to the buyback as a pedestrian.
Students should be prepared to stay in their cars and call 435-652-7642 for assistance when they've arrived at the dock. Students must also have their student ID number and textbook ISBN ready to give over the phone. Pedestrian students will be assisted in a tent near the dock.
West said the Campus Store is extending free shipping, with no minimum purchase, to the entire campus community to fulfill academic needs until the store re-opens. This also applies to buyback and rental return shipping, and any mail-in rental returns postmarked on or before April 30 won't be charged a late fee.
"We have not received any information on when we will be able to open again, but I hope [we will be open again] by the summer semester," West said.
The curbside textbook buyback and rental return will take place from 10 a.m. – 3 p.m. April 27 through May 1 at the Campus Store dock behind the Kenneth N. Gardner Student Center.