Impacts of the Aug. 23 flash flood in St. George are ongoing for students at Dixie State University.
Denali Lathrop, a senior English major from North Pole, Alaska, said the two people she took in that night at Red Mountain Student Housing had to go to classes the next morning despite being up late and stressing over the status of their apartments.
"I'm kind of disappointed the college didn't say anything other than 'Hey, there's a flood warning,'" Lathrop said. "A lot of students have been affected by this, you know, not just here at our apartment complex. There's plenty of other places around town."
In an email sent Aug. 25, Provost Michael Lacourse, vice president of academic affairs, encouraged faculty not to administratively drop students from their classes unless students confirm they will not be enrolling.
"We know that somewhere close to 100 students were displaced because of flooding and are in the process of finding new accommodations or returning home to take their fall classes via live stream," Lacourse said. "Coupled with the national outage of Zoom on Monday morning, many students were unable to log in to their live stream classes or to attend classes at all because they were cleaning up from the floods and looking for a new home."
Ceanne Elliot, a junior biology major from Albany, Oregon, said she almost had flooding through her front door at The Stay.

"Most of the countertops [at Red Mountain's] apartments were completely covered, so it's just insane," Lathrop said. "A bunch of windows were smashed in; some came off the frames. … I did see a couple of people from those apartments able to go in and salvage what they could, which honestly really wasn't much. Most of them were lucky if they were able to get another pair of clothes."
Repairs at Red Mountain Student Housing are expected to take six weeks, and its students have been moved to the College Inn in the interim.
DSU Athletics has made a Facebook event called "Donations for DSU Flood Victims." The page asks for monetary donations by texting "DSUFlood" to 71777 or for item-based donations to be dropped off at Tru by Hilton St. George's front desk at 1251 South Sunland Drive. Although the Facebook event is limited to two weeks, the donation process will continue through Sept. 30.
"During the storm, our football team members who live on or near campus gathered together and helped students however possible," Police Chief Blair Barfuss said. "They helped people get out of fast-moving water, assisted in moving the vehicle with the female student trapped underneath it, and did whatever was asked of them by others in need."
Not only did roughly 100 students lose housing and personal items in the flood, their jobs were also impacted.
Carson Pettingill, a CNA and freshman nursing major from Seattle, said he helped evacuate residents at St. George Rehabilitation the night of the flood. He said the residents were sent to other facilities in the area such as Coral Desert Rehabilitation. Some employees will also be laid off while repairs are being done over the next four months.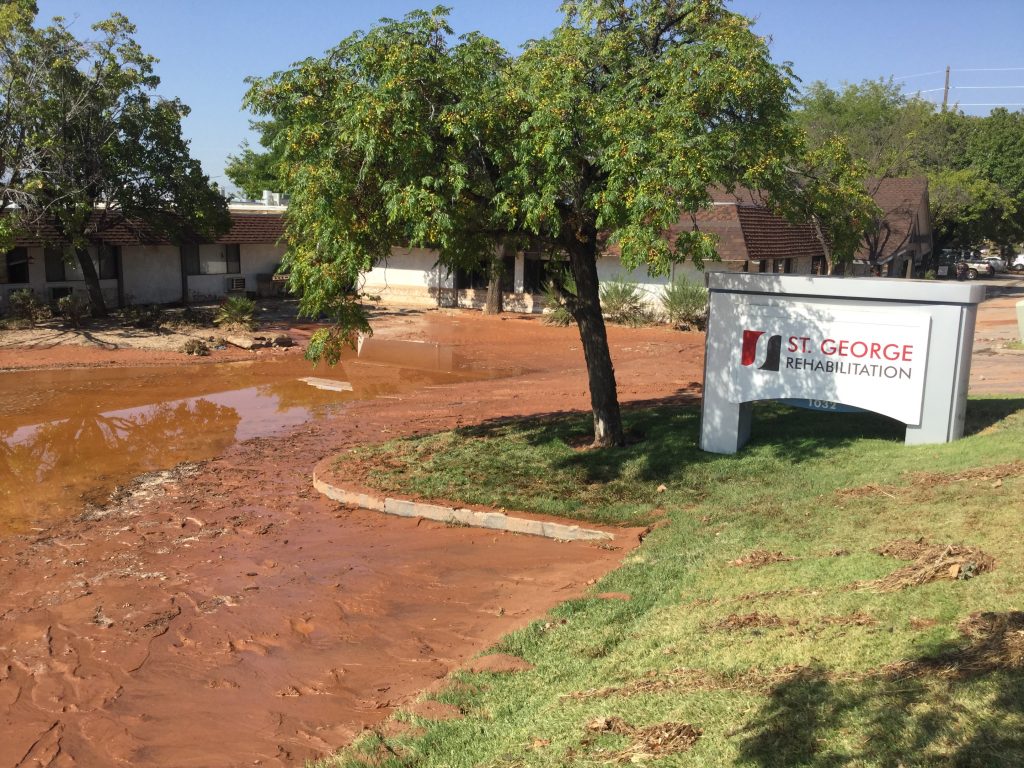 Despite the damages done by the flood, Barfuss said he's proud to see how the community has responded in regard to support.
"I am proud of our Trailblazer community," Barfuss said. "Their response to adversity amazes me. In the middle of a pandemic, school starting and a natural disaster that flooded much of our campus and community, our Trailblazers raised up to all challenges and overcame the chaos. I loved seeing everyone lend a helping hand and simply doing the hard work to get through the challenges we faced."