International students continue to enroll at Dixie State University after a policy threatening their education is lifted.
On July 14, DSU released a statement on Instagram that a policy issued by the Student Exchange Visitor Program had been canceled, allowing international students in the F-1 status to remain in the U.S. if classes would move completely online.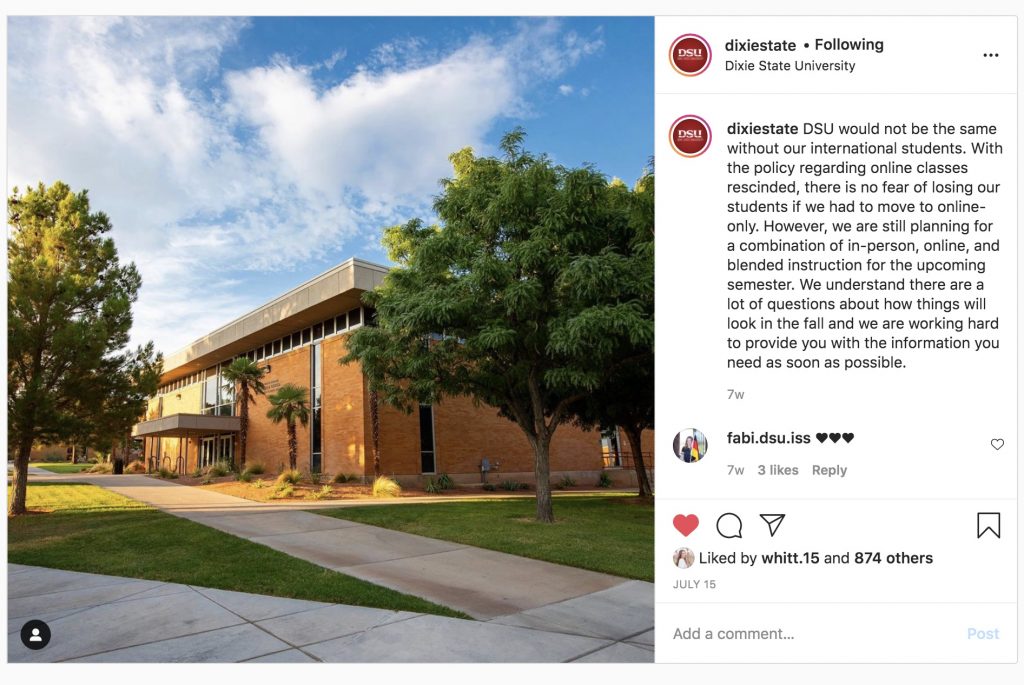 According to the U.S. Citizenship and Immigration Services website, the F-1 Student Visa allows people to enter the United States as a full-time student as long as they are enrolled at an accredited college or university.
The initial policy stated that F-1 international students would be sent home and unable to participate in their virtual classes if DSU moved to an online-only learning environment.
"By law, international students can take no less than 12 credits each semester," said Shadman Bashir, director of international student services. "Out of those 12 credits, only three credits can be online, so when this policy happened, our concern was if our school closed and everything moved back to all online, what would happen to our international students?"
Bashir said several Ivy League schools and other top universities in the country decided to join together in a lawsuit in July against the Trump administration to allow international students to stay in the U.S. despite a move to an all-online school year.
The universities deemed it unfair for international students to be sent home and lose their visas in a situation they cannot control.
"Now, international students do not have to take the required 12 credits; they can take less," Bashir said. "Not because they want to, but because classes are limited due to COVID-19. If the situation is COVID-related and an international student cannot take 12 credits, it is now allowed with the policy being canceled."
Bashir said international students panicked when the original policy was announced in the summer that if schools did not open back up for face-to-face classes during the fall 2020 semester, they would be sent back to their home countries immediately.
"This became scary for international students because many of them have expired F-1 visas," Bashir said. "Many students were thinking that they would not be able to travel back home because there were no flights, and they would also not be able to return back to the U.S. to continue their education later."
Fabi Puschmann, a junior psychology major from Horstmar, Germany, said she felt helpless and devastated when she heard the original policy. As an upperclassman, Puschmann felt she was going to lose the chance to graduate with a degree.
"Imagine having your whole life set up in one place, you've lived there for many years, made friends, worked hard to stay there and all of a sudden you're told you might have to leave the country and go back 'home' with no idea if you'll be able to continue your education or not," Puschmann said. "Shadman told us we did not have to worry, but it still crossed my mind that I might get sent home at any time if [DSU] went online again."
ISS immigration coordinator Allison McMullin said as an adviser she closely monitored the situation starting in March and contacted other universities in Utah to see what they were doing to assist their international students during the stressful time.
"I contacted every international student through email and other social media platforms, so they knew I was still available and updating them on any new information," McMullin said. "It was emotionally challenging to cope with not only COVID-19, but also the uncertainty in the education system; however, we kept in touch with all our students."
Bashir said as far as recruitment, the program has met their goal of 60-62 international students enrolled for this semester. The cancellation of the policy helped international students make a final decision to attend DSU because their safety was ensured.
"I am relieved we are able to cater to our students' needs in case the current education model changes," McMullin said.
For more information regarding the cancellation of the F-1 international student policy, visit the ISS website.