The music video for Lady Gaga's "911" is yet another out of the box pop experience.
The 4 ½ minute video opens in a white desert with Gaga lying next to a busted bicycle and scattered pomegranates. She follows a horseman to a small square crowded with people and decorations inspired by the 1969 Armenian film "The Color of Pomegranates," a favorite of video director Tarsem Singh. Emphasis is placed on a man hitting his head against a pillow, a woman holding a mummy, and a man and woman following Gaga around.
The video ends with her screaming as paramedics try to treat her injuries after resuscitating her at the scene of a car crash. The paramedics are the same man and woman who were following her around, a man with his head against the steering wheel of one of the cars is the same man who was hitting his head against the pillow, and a woman clutching an unconscious man is the same woman who held the mummy.
The music video's twist ending shows that the Armenian-inspired fantasy in her head was based on the scene of a car crash outside an Armenian film festival, something that was hinted at by a painting roughly halfway through the music video. This theme is reminiscent of the musical episode of "Grey's Anatomy" when Callie processes her trauma after being injured in a car accident by imagining everyone singing, but the fantasy setting takes things to the next level.
If you love these sorts of easter eggs like I do, go back and compare frames from the fantasy and the crash scene for more.
The twist ending is also hinted at by the lyrics of the song, particularly the verse, "Front I've built around me, oasis / Paradise is in my hand / Holding on so tight to this status / It's not real, but I'll try to grab it / Keep myself in beautiful places / Paradise is in my hands." This can be interpreted as her brain creating a fantasy to keep her calm while helping her process what's really happening. It's a clever way of connecting the intended theme of the interconnectivity between dreams and reality with the video's twist ending.
In several tweets leading up to the Sept. 18 release of "911," Gaga referred to the video as a short film, so I was expecting a 10 minute experience similar to her "Telephone" music video. As always, she subverted my expectations by having a 4 ½ minute video with a personal message intertwined.
Gaga said on Instagram, "The short film is very personal to me, my experience with mental health and the way reality and dreams can interconnect to form heroes within us and all around us."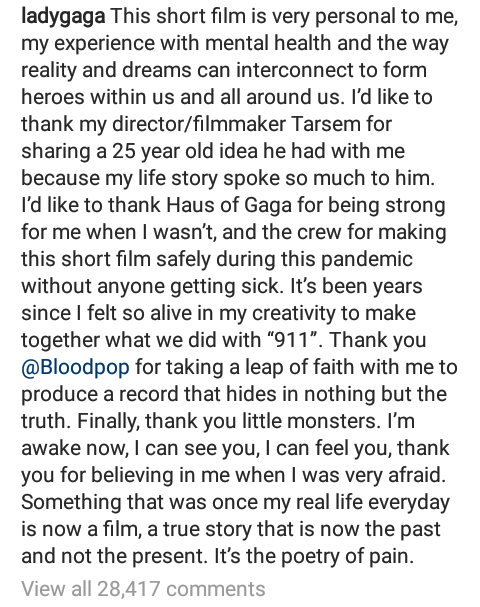 I love this idea because mental health is always important to address, and Lady Gaga did it in such a creative way that others can appreciate.
Even without the creative music video, the song isn't something to sleep on. The autotuned quality of the electropop vocals in "911" feels more in-tune with Gaga's earlier work, so if you're a fan who prefers pre-"Joanne" Lady Gaga, "911" is definitely for you.
While I've enjoyed "Joanne" and most of her work since, I've been a fan of Lady Gaga since 2008's "The Fame," so it was nice to see something that called back to her earlier work; even the way her hair is shaped as a green bow in "911" seems like a callback to her original style.
If you're looking for a catchy song with a visually and emotionally engaging music video, look no further.