The Dixie State University board of trustees met Jan. 29 to discuss enrollment in the COVID-19 era and the university's goals.
Sarah Vandermark, senior associate provost for academic success, and Darlene Dilley, associate provost for enrollment management, presented "Road to 16,000 in 2025: Fall 2021 Enrollment" to the board.
Dilley shared 2021 campus-wide enrollment targets:
| | | |
| --- | --- | --- |
| Student Type | 2020 | 2021 |
| Concurrent/High School | 3,029 | 3,225 |
| First-Time Freshman | 2,543 | 2,650 |
| Transfer | 667 | 750 |
| Readmits | 378 | 390 |
| Graduate | 54 | 60 |
| Continuing | 5,227 | 5,400 |
| Non-Degree | 146 | 175 |
| Total | 12,044 | 12,650 |
"We enrolled over 12,000 students this past fall, which is amazing," Dilley said.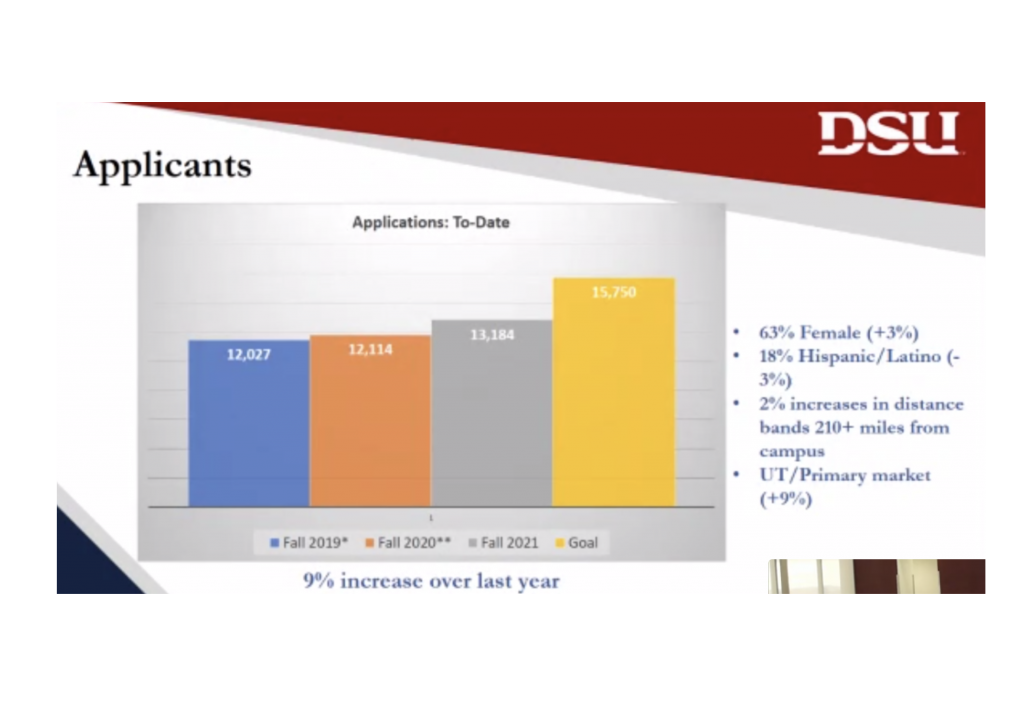 DSU has 13,184 applications to date, citing a 9% increase over last year. The university's goal this year is to reach 15,750 applications.
Dilley said: "Nationwide applications are down as high as 10%, but [at] public institutions in the west, the average is about 1% ahead, so [for us to have a] 9% increase in a COVID year? We are celebrating."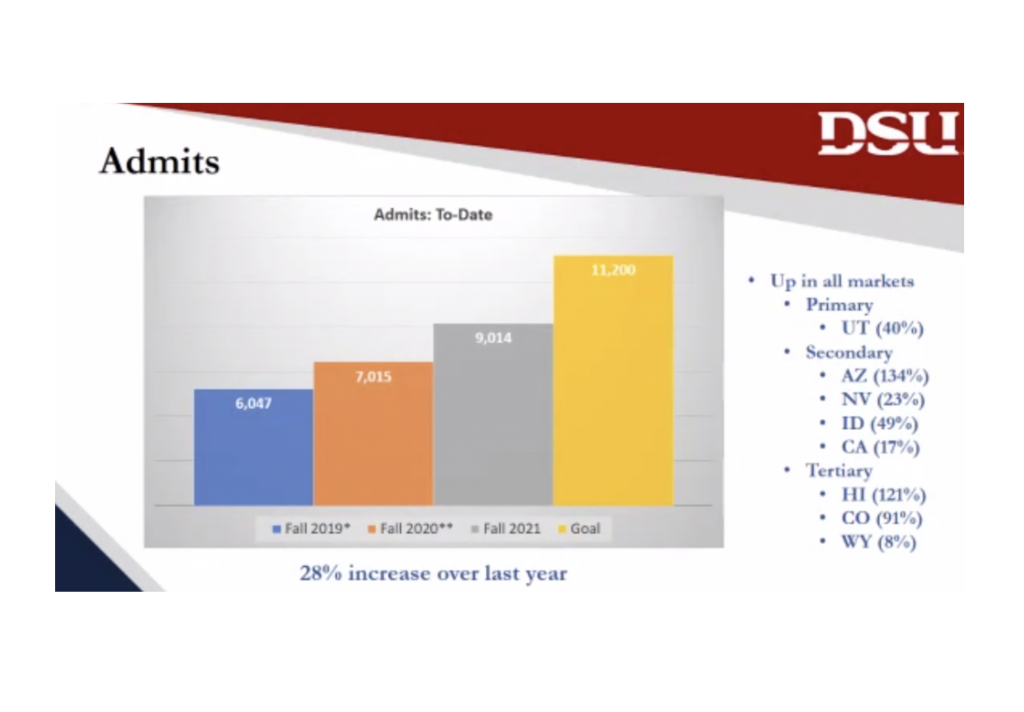 DSU's admissions to date are 9,014, citing a 28% increase over last year, and the university is setting its goal to 11,200 admits this year.
Three initiatives to encourage recruitment for first-time freshmen include application events, eliminating test score requirements, and hosting both virtual and in-person high school visits and fairs.
"We have to redouble our efforts," said Deven Macdonald, a local entrepreneur and member of DSU's board of trustees. "I'm amazed at how many people do not understand the caliber of our nursing program, accounting program or business program."
Vandermark said the freshman retention rate from fall to spring typically stays constant, but DSU can do better with its part-time students.
"But there's lots of reasons why they come," Vandermark said. "Some of them come to take a class or two then transfer."
Dilley said DSU starts marketing to sophomore high school students, then juniors, then really pushes seniors to enroll.
One initiative includes sending struggling freshmen students who leave academic probation a congratulations letter.
"We want to get [students] above a 2.0 before [the next semester]," Vandermark said.
Dilley said while there is a national expectation of first-year freshmen decreasing, DSU wants to focus more on adults.
"We know that 40,000 plus people in Washington County have some college but no degree," Dilley said.