Many people have heard of the saying: "knowledge is power." When it comes to protecting one's self, having self-defense knowledge is no different – and not just for the reasons one would typically think.
Self-defense classes are immensely beneficial and could even be the difference between life or death.
Not only are self-defense classes beneficial for the obvious reason of staying safe, but they also have a range of positive effects. Trainings boost self-confidence, improve mental and physical health, and improve social skills. These atypical benefits from self-defense classes are more than enough reasoning to participate in self-defense.
Self-confidence
Self-confidence is boosted through the progression of skills acquired. We all know it feels good to not only learn something new, but there's also a sense of accomplishment that makes one feel good. Being able to see one's own progress develops character. It aids in the discovery of what an individual is capable of, which can be seen through self progress.
Both hands-on and presentation methods of teaching self defense are excellent ways for students to learn. Hands-on method boosts self-confidence in one's ability to use the skills they learn. It gives real-life scenarios that enhance confidence in participants skills.
This boost in confidence creates a wave of self-discovery for participants. It makes them realize what they are truly capable of in a physical and mental capacity.
Mental and physical health
According to Criminal Defense Lawyers Grabel & Associates, self-defense classes improve physical health through the consistent use of exercise. Mental health is improved through the release of endorphins when exercising, and these endorphins improve overall mood.
"If someone has been the victim of a crime, then taking a self-defense class can be part of the healing process," Scott Grabel, founding attorney of Grabel & Associates said. "It allows the person to feel that they are more in control of their life and can make a big difference in how they recover from the psychological impact of the trauma."
Self-defense is most commonly associated with women participating in trainings. However, self-defense is not just for women. It is important for everyone to know at least the bare minimum of self-defense moves to stay safe.
Social skills
According to Health Fitness Revolution, social skills are developed through group settings in self-defense classes. This provides an opportunity to meet new people and create connections one otherwise wouldn't.
Presentations during self-defense classes offer the opportunity to socialize not only with instructors of the class but also with other participants. This creates better communication and socializing skills among participants.
Different types of self-defense classes
Not only are there other benefits than being safe when taking self-defense classes, but there are multiple types of self-defense trainings. It isn't always just an instructor in front of a group of students.
This isn't the only option for those who are interested in self-defense classes. There is a plethora of martial arts including:
Taekwondo
Karate
Jiu Jitsu
Muay Thai
These different types of martial arts are great ways to learn self-defense techniques. There are also self-defense classes that teach students how to properly use weapons in the case of being attacked.
Utah Tech's self-defense class
The Utah Tech University Police Department is conducting a free self-defense class. It is a six-hour course broken up into three classes. The Self-Defense Awareness and Focused Empowerment class is limited to 12 participants.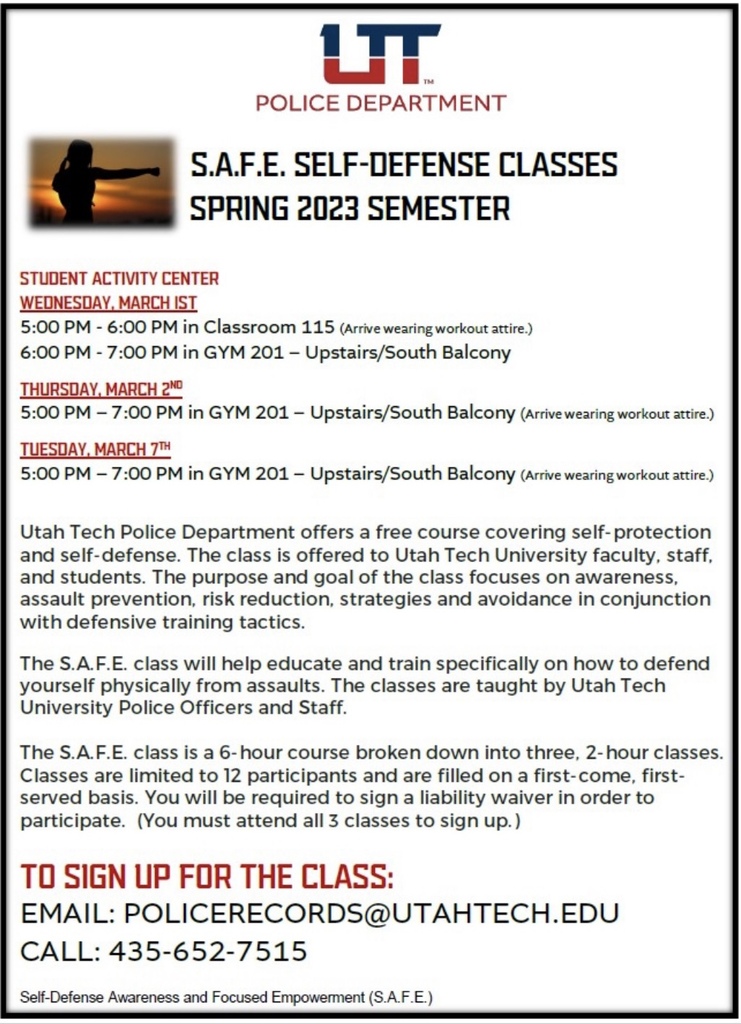 Ron Bridge, Utah Tech's interim chief of police, said the first self-defense training started in 2019 when a previous officer, Ola Kaonohi, thought to bring the idea up. Bridge explained why the class is limited to 12 participants.
"The class is limited to 12 participants, so the officers can give one-on-one instructions to the students," Bridge said. "The officers who teach are Utah POST certified defensive tactics instructors and truly enjoy working with each individual during the training."
Utah POST certified means these police officer instructors are "Peace Officer's Standards and Training" certified.
These police officer instructors offer their time and knowledge of certified skills to the participants of the training. The class consists of instructional PowerPoint presentation as well as hands-on physical training.
"These two training methods give the students time to learn and also engage which brings out the active learning component," Bridge said.
It is understandable why only 12 participants are allowed. The police department wants to ensure the active learning component with one-on-one training.
However, considering 12 participants is not a lot, in the future it would be beneficial for students and faculty to have this opportunity more than once a year, if possible through the police department.
Like previously mentioned, not only are self-defense classes important for safety reasons, but they also boost one's own confidence through the progression of skills learned, provide health benefits and increase the ability to socialize with others when participating in trainings.